Ted Nugent will be at the 8th annual DeerFest in August at the Washington County Fair Park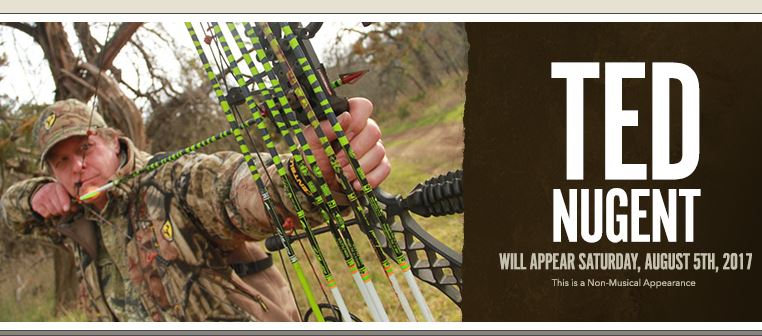 May 30, 2017 – Town of Polk, WI – This coming August the Washington County Fair Park will host the 8th annual DeerFest and one of the special guests this year will be Ted Nugent.
According to the DeerFest webpage Nugent will be on hand Saturday, Aug. 5. He'll have a presentation and an autograph session.  A portion of the posting on Nugent is below.
To millions of citizens, Nugent is the nation's most outspoken proponent of our first and second Amendment rights, conducting thousands of pro-gun, pro-freedom, pro-America interviews in major media worldwide. He has served continuously on the Board of Directors of the NRA since his initial election in 1995, where he consistently sets records for amassing the highest number of votes received be an individual board member. 
Nugent has been named favorite Hunting Personality by the readers of Outdoors Magazine.  He was inducted into the National Bowhunting Hall of Fame, marking the pinnacle of recognition for Nugent as a bona fide Bowhunting Legend of the 21st Century, acknowledged for his skills as an outdoors man, and for his tireless promotion of bowhunting via his writings for over 40 publications, his New York Times best-sellers Ted, White & Blue:  The Nugent Manifesto and God, Guns and Rock 'n' Roll, along with Kill It and Grill It, BloodTrails and BloodTrails II.
Nugent is the star and host of the Outdoor Channel's award winning show, Ted Nugent Spirit of the Wild television show, and also proudly serves as an ambassador for the network.

Read the full article and get more details on DeerFest 2017 by clicking HERE.
DeerFest is Aug. 4 – 6 at the Washington County Fair Park.