The long-standing tradition of lemonade stands…. makes it feel like the start of summer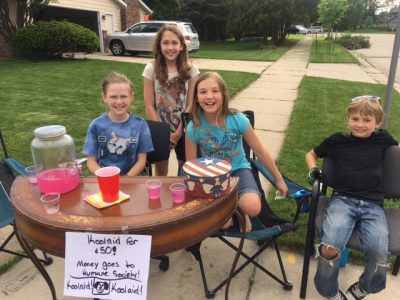 May 30, 2017 – West Bend, WI – There's nothing like seeing a kid's corner lemonade stand. It feels like a quintessential summertime experience.
The group at the corner of Silverbrook Drive and Stirling Court were selling cups of Kool-Aid for 50 cents.  Proceeds went to the Washington County Humane Society.
The fellas at a Saturday rummage sale were MORE than eager to help quench your thirst with a cup of grape. Their mom said they were learning the value of money.
Sidenote: In August 2009 I pedaled home from Seattle after running the Rock n' Roll Marathon.  Below is one of the notes I received while on the road.
"Judes, Be sure to drink enough water. Stop at lemonade stands, you need the electrolytes. Another thing, no bartering with the kids over the price of Kool-Aid. Just give them their nickel, honey." Julie L.