Tennies Ace Hardware donates hats and mittens to needy children in the WB School District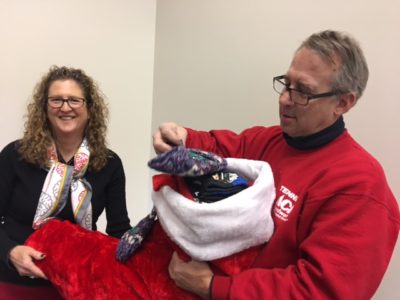 Dec. 18, 2016 – West Bend, WI – Christmas came a little early to the West Bend School District as Todd Tennies from Tennies Ace Hardware family dropped off a huge red stocking full of hats, gloves and mittens for needy children.
"This is the fifth year we've done this," said Tennies. "These will be given to the teachers to hand out to children who are less fortunate."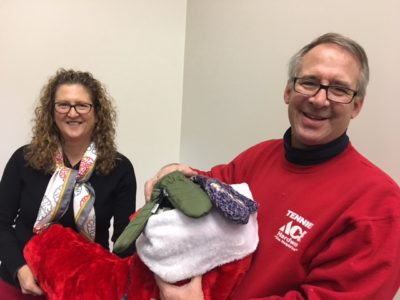 The Christmas stocking, which was the size of a 3rd grader, was stuffed full of new knit hats, multi-colored gloves and water-proof mittens.
Sharon Kailas, director of pupil services and Head Start in West Bend said the donation solidifies the community support for its schools.
"The collaboration and the community generosity is wonderful in West Bend," said Kailas. "In partnership with the firefighters who donated the coats this will help keep our kids warm and safe."