June 18, 2019 – West Bend, WI – Special thanks to our generous sponsors and volunteers who came out this past weekend in support of the 4th annual West Bend Biergarten.
Neal (I mean Eric) Diamond entertained the large crowd on Friday night with all of the Neal Diamond hits. If you haven't seen him you need to visit us next year, he is fantastic!
Maple Road performed on Saturday to a hearty crowd. So good! Despite weather that was more like late October instead of mid-June we had a respectable crowd.
As always our West Bend Friends of Parks and Recreation volunteers were outstanding. Always ready to treat you to hot food and cold refreshments with a smile.
Our sponsors include Thrivent Financial, Johnson Bus and Lake Front Brewery.
Dollars raised from these events assist the West Bend Park, Recreation and Forestry Department with items that are not financially supported by the City.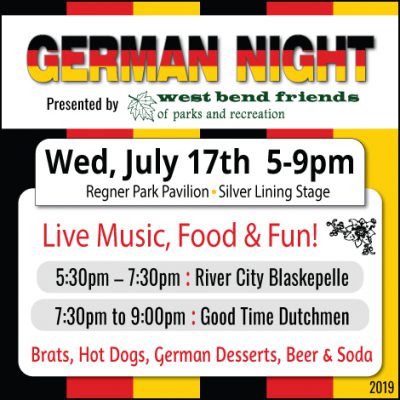 Mark your calendars for our fun July events, Regner Fest on Saturday, July 13 and German Night on Wednesday, July 17. See you there!