Thanks to West Bend Firefighters Charities… Setup for Enchantment in the Park 2017 is underway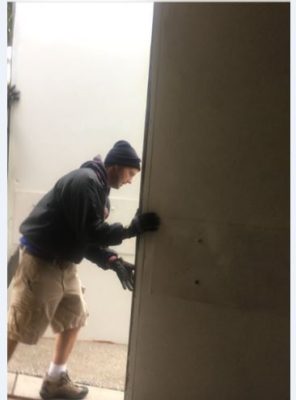 Oct. 13, 2017 – West Bend, WI – Three cheers for the West Bend Firefighters Charities as about a dozen members of WBFD Local 2025 used their muscle, a little ingenuity and some friendly persuasion to build Santa's Workshop for this year's Enchantment in the Park.
Yup, it's that time of year already.
Firefighters started around 9 a.m. Thursday. It was a blue-jeans-and-light-jacket sort of day.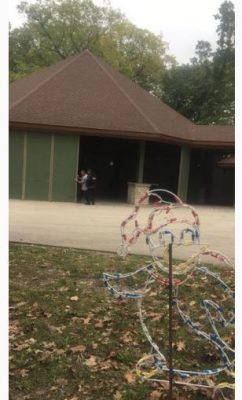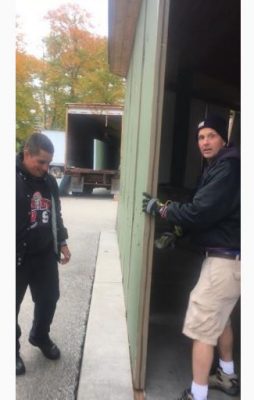 Transforming the Rotary shelter in front of the Silver Lining Stage at Regner Park went rather quickly as the organized crew had its system down.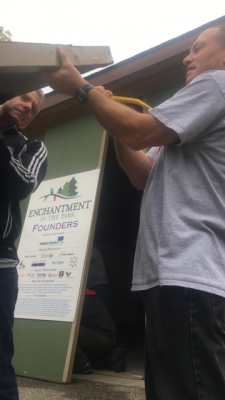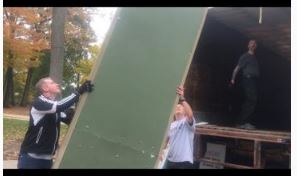 With little discussion and a lot of cooperation Enchantment in the Park 2017 will soon be open for business. Volunteers are already working weekends setting up lights and building sets.
The season this year opens Friday, Nov. 24.  Enchantment in the Park is an interactive holiday light show that benefits hungry families and local nonprofit organizations.