West Bend Theatre Company finds a new home

Oct. 13, 2017 – West Bend, WI – Big announcement for the West Bend Theatre Company as it is moving this year's annual production of "A Christmas Carol" to the Silver Lining Arts Center at the West Bend High School.
Production manager Nancy Storrs said the West Bend Theatre Company will also share proceeds with the High School choir programs in West Bend and they plan on sharing with a different nonprofit organization for each show they produce.
"We are the theatre company that gives back to the community," said Storrs. "We wanted to support local music education and build a rapport in the community. This relationship does that and more."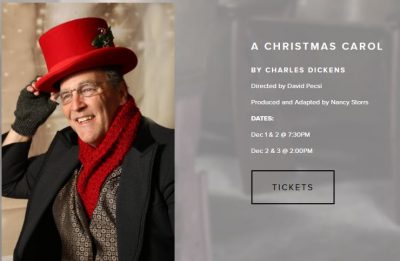 Directing "A Christmas Carol" for 2017 is West Bend High School's new choir director David Pecsi. Partnering with him on the music direction is Kaila Bingen and Seth Matuszak music teachers from Silverbrook Choirs and the High School Orchestras.
Also part of the family are Rick Bingen, communications coordinator, and Lori Pecsi in costuming.
Over the past seven years the West Bend Theatre Company has connected with over 350 people (50+ cast members per year) to stage "A Chirstmas Carol."
"We have participated in community charity with Dickens of A Food Drive, and are thrilled to be making our big move to the High School for a community-and-school partnership with West Bend Theatre Company supporting music in education," Storrs said.
Next year the West Bend Theatre Company plans to donate to the Historic Downtown West Bend Theatre.