The chess challenge is on as K6 student throws down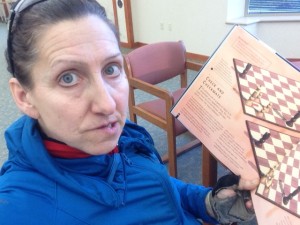 Oh good grief… now what have I got myself into?
A couple weeks ago I reported on the Saint Frances Cabrini Chess Club. A couple of students did well at the Nicolet High School tournament. Two students from Cabrini were in the K6 division (4th-6th grade), and seven were in the K3 division (K5-3rd grade).
I labeled the story 'Smarty pants chess club from Cabrini' and then I opened my big mouth and was like "Oohhh… they think they're sooooo smart. I bet I could give the chess wizards a run for their money."
Next thing I know coach Cassie Erato is sending me a note. "Aaron and Grace would love to take you up on your challenge."
Whaaaaaaaaa???
I did some research and Aaron Ruplinger won 1st place in the K6 division individually!
He has been participating in chess tournaments since the beginning of the season and holds one of the top seats in his division in the WI Scholastic Chess in southeastern Wisconsin.
Just look at this crew…. standing there all smart with their medals and confidence and whatnot.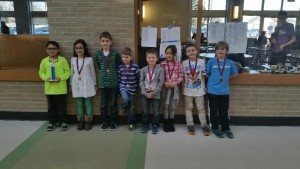 I went to the West Bend Public Library today to study up on my mad board-game skills.
The big match is 11 a.m. Tuesday at St. Frances Cabrini.
Chess tips welcome – – quick!