Obit: William "Bill" Hardy, 84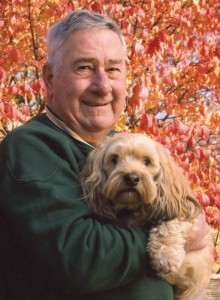 William "Bill" Hardy, age 84, of West Bend, found peace Saturday, March 5, 2016 at the Kathy Hospice in West Bend.
He was born on September 22, 1931 in Milwaukee, the son of the late Leo and Mary (Totsky) Hardy.  The family moved to Stevens Point in 1939 and then to Vesper in 1941 where Bill attended Green Elm Grade School and graduated from Auburndale High School.
Bill was employed in 1949 by American Transfer and Distribution Co. as a truck driver and equipment operator before joining the U.S. Air Force in 1950.  He served in the Korean Theatre of operation in 1951 and 1952 and was honorably discharged in 1954.  He then went to work for the Wisconsin Electric Power Co. as a lineman, mechanic, and finally as a supervisor, retiring in 1991 after 38 years.
Bill was previously married to Nadine (nee Binder) in 1954.  In 1985 he remarried LaRene (nee Soukup) Hardy.  Bill and LaRene then moved to Lake Camelot in the town of Rome in 1991, after retirement.  He worked as Public Works Coordinator for the town of Rome and was on the Tri-Lake Board of Supervisors.  Later his residence brought him to West Bend where he was a member of St. John's Lutheran Church in the town of Jackson.
Bill enjoyed fishing, bowling, golfing and loved spending his winters in Texas with his wife and his many winter-Texan friends.  He was an avid reader and loved visiting the casino for entertainment.
He is survived by his devoted, loving wife, LaRene; four sons, Bill (Susan) Hardy, Jr., Thomas (Ellen) Hardy, Timothy (Tammy) Hardy, and David Hardy; two daughters, Mary (Tony) D'Andrea, and Judi (Alex) Mulkey; two step-daughters, Jody (Dean) Giacomini, and Janell (Paul) Vanderkin; ten grandchildren, William III Jr., Amy, Shannon, Jacob, Maxwell, Abbey, Joshua, Chad, Hunter, Charlie; five step-grandchildren, Chad, Danyel, Brett, Samantha, and Nicholas; two great-grandchildren, Ellie and Daniel; three sisters, Patsy (Frank) Dunbar, Sharon (Norm) Gross, and Jane (friend Rick) Raab; a sister-in-law, Bonnie Hardy; and many other wonderful relatives and friends.
He was preceded in death by his parents, Leo and Mary Hardy; a son, John Hardy; a sister, Delores (Bob) Hamann; a brother, Leo Hardy; and a grandson, Thomas J. "TJ" Hardy.
The family will greet relatives and friends on Saturday, March 12 from 9:30 to 11:00 a.m. at St. John's Lutheran Church (2881 Division Road, Jackson) with a Celebration of Life service to be held at 11:00 a.m.  Private inurnment will be held at a later date.
Special thanks to Dr. Gajic and his staff for their years of exceptional service and care, St. Joseph's Hospital, West Bend, the Kathy Hospice staff, nurses and Social Worker.
Words cannot express our gratitude for Pastor Paul Mittermaier of St. John's Lutheran Church in Jackson for his endearing love and support towards Bill and LaRene for these many years.  God's blessings to Pastor Paul and his "doughnut brigade."
Online guest book may be found at www.myrhum-patten.com