The County Annex II used to be "asylum for the chronic insane"

A bit of history on the Washington County Annex II, 515 E. Washington St. in West Bend. The County Annex II is in the news following a story http://www.washingtoncountyinsider.com was first to report about the decision to raze the building along with the neighboring structure to the west that houses the county Senior Center.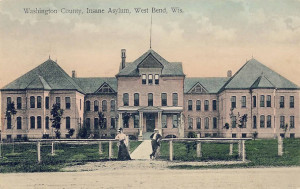 The Annex II is part of the county campus and years ago it was "an asylum for the chronic insane." According to the Story of Washington County by Carl Quickert the "asylum" was built in 1898 near the eastern city limits of West Bend.
"Its wings received two additions in 1911, the material of the entire building being brick and stone. A large farm is being worked in connection with the institution.
The county farm originally was located in the northern part of the town of Jackson, and on it was the Poor home. In 1912 this county property was sold and a new Home erected on the Asylum grounds."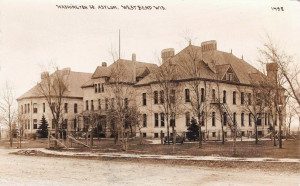 Terry Becker, a native West Bender and collector of history, confirmed the original Poor House was "established in 1844 at the Highway NN location which was sold and operations were consolidated in West Bend in 1912."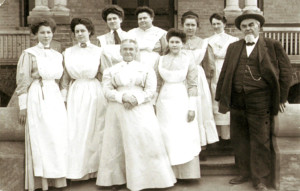 Photos courtesy You know you are from West Bend if…and Joan Lochen are of director Peter Lochen and his wife (center) Susan Schwinn. John Steilen chimed in, the woman in the last row with the black tie could be his grandmother Bernadine Berend Steilen.
Mike Moser recalled the DMV was located in the lower level of one of the buildings, at least till the late 1960's.
The color postcard photo is courtesy Steve Kissinger and the sepia postcard is from the Terry Becker collection.
By this summer Washington County's Annex II and the Senior Center will be razed. Plans have been in the works for about a year as the county started looking at capital improvement projects.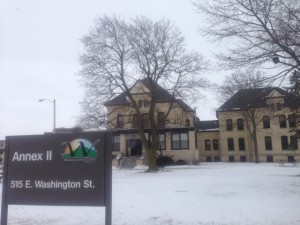 "They're just costing us money to keep them," County Administrator Joshua Schoemann said. "The expense is around $20,000 to $40,000 a year; most of it is for boiler heat and some staff maintenance."
On a history note the Annex II use to be the old County House or County Home and Hospital. It was also home to Lutheran Social Services which rented out a portion for a charter school in 2014.
Schoemann said, since then the site has been used for file storage.
The early price tag to raze the two county buildings is roughly $400,000.