The Curtain Falls: Karen Wysocky retires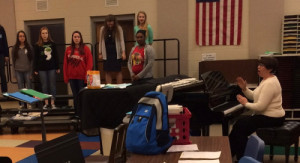 Maggie Kieser, student reporter with The Current, writes a strong tribute article about choral director Karen Wysocky who is retiring from the West Bend High Schools at the end of this semester.  A portion of her article is below.
The last curtain of the WBHS performance of Cinderella in February was more than just the final performance of a talented cast. This signified the final high school musical production for longtime director Karen Wysocky.
At the end of this school year, Wysocky will retire from her position as choir teacher for the West Bend High Schools after arriving in 1986. She has done wonders for the choir department and the annual musicals, and she has left an impression on students both current and past.
When Wysocky started her position at West Bend, the choir department was not at the caliber it is today. Thanks to her, the choir department has grown and has achieved high recognition.
"When I first came there were only
See the rest of Kieser's article by logging onto The Current.
(Top image: Karen Wysocky leads her concert choir class. Photograph courtesy of Noe Hadley, East junior.)