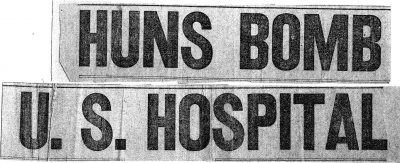 March 21, 2017 – West Bend, WI – Resident historian Lee Krueger is looking to highlight his great aunt Thecla Richter, who served as a nurse during WWI. Below are two letters home from Richter dated August 30, 1917 and  Sept. 28, 1917.
Aug. 30, 1917 (received Aug 30)
"Somewhere in France"
Dear Brother….. Will you do me a favor and order some candy at Webers or the Princess for me.  Ask father to give you the money.  I have enough at home.  Put in a standing order for them to send one pound every week and have them send it directly to me so it won't be any trouble for you.  They could send you the bill with postage each month…..   I don't want chocolate creams but do want an assortment of hard centered chocolates such as nougats, caramels, puddings, coated nuts, peppermints.  Also some of their assorted caramels.
It is absolutely impossible to buy any sugar. Our foods such as rice, tea and puddings are sweetless….. If they send me one pound a week I will at least get quite a bit and still allow some to Fritz to feed the fishes.
Now for some real news. We had an air raid the other night but not a German air raid.  It was a real wind storm. We had to abandon a great part of our hospital. Fifty-three marques (small tents) were abandoned and are lying in ruins.  That means 1000 beds are out of commission-a loss estimated to be $100,000.
Have many of the boys from West Bend come over? But then I must not go into details because it would all be censored…..
…. I do not want any chocolate creams because they do not come in good condition.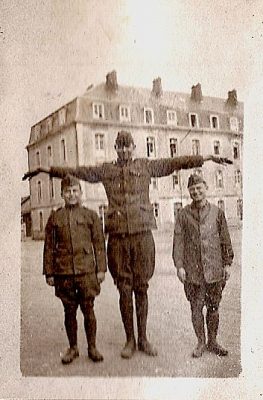 Sept. 28, 1917   (received Oct. 17)
Almost a week has passed and I haven't written but we have been so very busy. When we receive several hundred new patients a day it means that everyone works as hard as they can and all day.  Really it is pathetic the condition of some of these patients are in.  Even at the very worse they try to be cheerful and patient.
Sometimes these cases are sent back to England to recuperate. Many are permanently unfit for service and others whose injuries are not as severe stay at the base hospitals until they are ready to go to a convalescent camp or to their own base camp and then go back into line to do their bit.
The other day I met a man from the same town in Scotland where Miss Wood lived. You remember, Miss Wood was the Evanston girl killed on the boat coming over here. We were glad to see him.  He had visited at Miss Wood's home only several weeks ago.
Undoubtedly you read about the bombing of hospitals. It is true but fortunately no one was hurt in our camp and I really don't think it was meant for hospitals and probably won't happen again.
Side note: To read the entire series of stories and letters by Thecla Richter click HERE.