The old Friedens Church on Cedar Creek Road is for sale
April 8, 2017 – Jackson, WI – The old Friedens Church, 2889 Cedar Creek Road, in Jackson is for sale. The asking price is $

74,200.
The history on the property is pretty interesting. The following is from New Hope UCC on Jackson Drive in Jackson.
On March 20, 1852, a group of German settlers met to organize a congregation named Friedens Evangelical Church.  In 1852 a log structure was built housing the congregation until 1878 when a brick structure was built at the intersection of Hwy P and Hwy C in the Town of Jackson.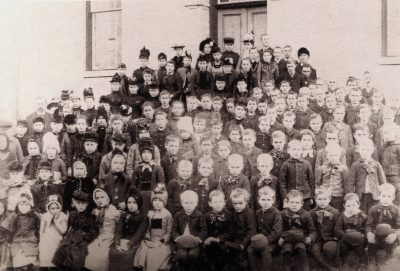 On June 28, 1912, another group formed and was known as Peace Evangelical & Reformed Church.  Their wooden frame church was built on the corner of Hwy 60 and Hwy P in the Village of Jackson.
In 1957, Friedens Evangelical and Peace Reformed, joined the newly established denomination, the United Church of Christ.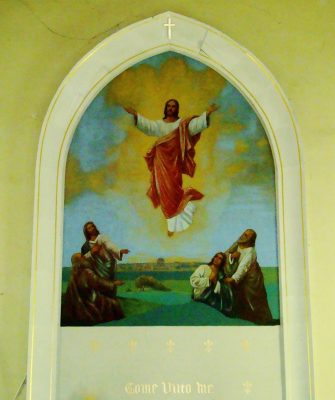 Frieden's and Peace merged in 1967 and became known as Frieden's-Peace UCC.  These yoke of churches included Faith UCC in Slinger and St. Peter's UCC in Richfield.  But in 1978, Faith separated and Frieden's-Peace and St. Peter's remained together hiring Rev. James Hill as pastor.
In the 1980's, after much prayerful discussion, Frieden's-Peace UCC made the decision to build a new church.  Twenty acres of land was purchased from members Clarence and Bernice Faber.
On April 23, 1989, the last service was held at Peace UCC, and the church building and parsonage were then sold to West Bend Savings Bank, who razed the buildings to develop "Old Church Square", a small business district.
On June 2, 1991, the last service held at Frieden's and the church building was then sold in to a private party as a home and workshop.  Frieden's parsonage still houses the minister and his family.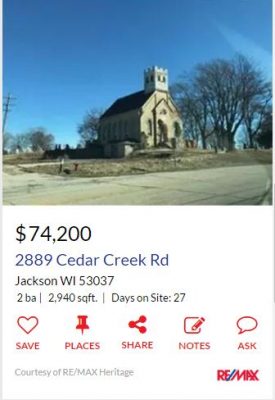 Previously was used as a church. Property was in the processes of being gutted out. Needs major TLC. Currently zoned Ag1 Property is being sold as is online auction starting March  20, 2017 and ending June 7, 2017.
Photos courtesy Re/MAX Heritage and Terry A. Becker