The West Bend High School Drumline is highlighted in The Current By Jessica Steger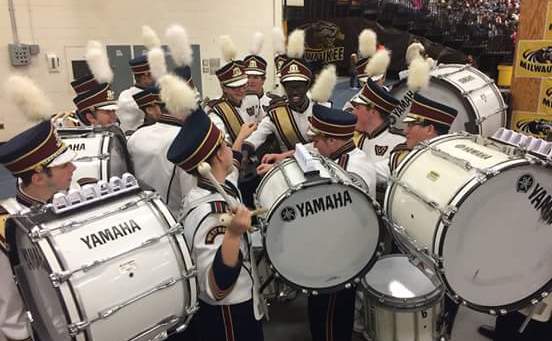 Dec. 5, 2016 – West Bend, WI – Jessica Steger is a reporter with The Current and she had a great story published this week about the West Bend High Schools drumline and its recent performance at the annual Fresh Coast Drumline and Basketball Competition. The competition was held at the University of Wisconsin-Milwaukee.
A portion of her story, Drumline sticks the landing, is posted below.
Besides bragging rights, another perk to placing in the competition was the prize money. The drumline received $500 for their second place finish. This money is used to directly benefit the drumline through the purchase of new equipment.
"We got drum heads, and we're planning on getting some nice drum sticks so everyone matches," said Ben Kroll, East senior and member of the drumline. "It's just used for wear and tear stuff."
Leah Duckert, one of the WBHS band directors, views the drumline's accomplishment with admiration.
"I continue to be immensely proud of them, not only for their integrity, but also for the awesome they always display to the other drumlines they meet," Duckert said. "They really invest in our band's motto, 'Excellence with Pride.'"
Drumline displayed this excellence at the competition with a fresh set of music.
"It was different," Kroll said. "A lot of the other drumlines, they would go in there and they'd play really basic drum parts. But we would go in there and we'd play different parts of music, like we incorporated two different Pitbull songs; there was 'Fireball' in there, and 'Give Me Everything Tonight.' We had 'Turn Down for What' by Lil Jon. It was just different modern songs to make it more enjoyable."
Duwayne Davis, another East senior and member of the drumline, agrees.
"I thought it was really fun," Davis said.
This statement represents the general atmosphere of drumline, where an abundance of team bonding takes place. Through all of their time spent practicing and working together, the drumline has become a tight-knit group.
To read the rest of Steger's story log onto The Current or click HERE.
Photograph courtesy Leah Duckert