June 3, 2022 – Kewaskum, WI – "We are working together," said Kewaskum Police Chief Tom Bishop following an incident this week regarding a pair of reported threats involving students at Kewaskum Elementary School.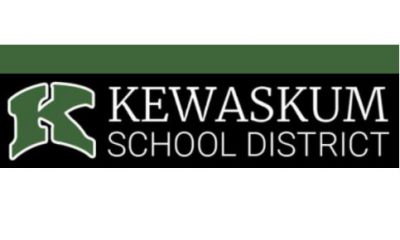 "We've had a lot of conversations over the past two days about making sure law enforcement is notified immediately," said Bishop.
The threats, addressed in a letter by principal Shelly Hyde were deemed unfounded.
The situation the chief and parents drew attention to was neither Hyde nor the district contacted police when it happened.
Hyde's letter to KES Families is below.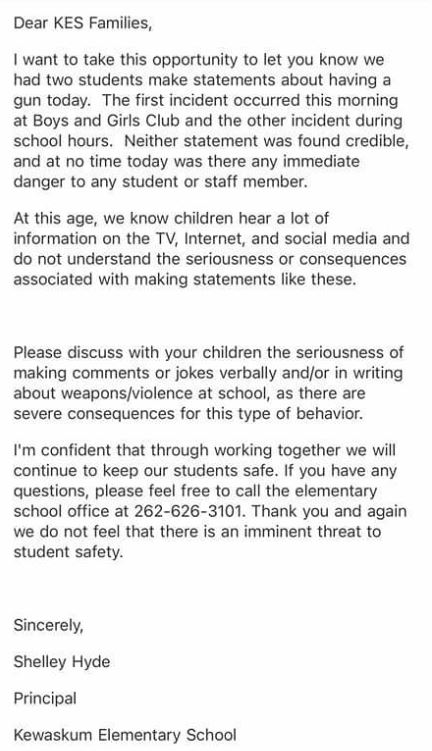 "I don't think the school mishandled the situation," Bishop said. "They assessed the threat accordingly and knew there wasn't an actual threat, and they knew that right away which is why they didn't call us right away.
Click HERE to SUBSCRIBE to FREE local news at
"Moving forward, I believe there's a better understanding it is better to err on the side of getting law enforcement involved right away and if the situation turns out to be nothing, law enforcement can step aside.
"We're going to work towards getting us involved in a better spot," said Bishop.
District Superintendent Dr. Mark Bazata said the proper procedures were followed at the Elementary School.
"The very first thing we do is make an assessment based off of a Department of Justice process to find out if a threat is credible," he said.  "And then based off of that assessment, that's when police are notified, if necessary."
Questioned if parents who were concerned were correct that Kewaskum Police were not notified initially?
Bazata responded, "Yeah, the threats were not deemed credible."
Asked if that was the appropriate procedure, Bazata again stood by the Department of Justice process.
Bazata said he was confident in the process. He said the district also involves its pupil services director and school psychologist when a threat assessment is necessary.
Will there be any ramifications for the student/students involved?  "Yes, anytime a situation like this happens, and obviously I can't talk about specifics, but we do deal with those situations and discipline students accordingly," Bazata said.
A letter to families was also sent May 31, 2022 by Bazata.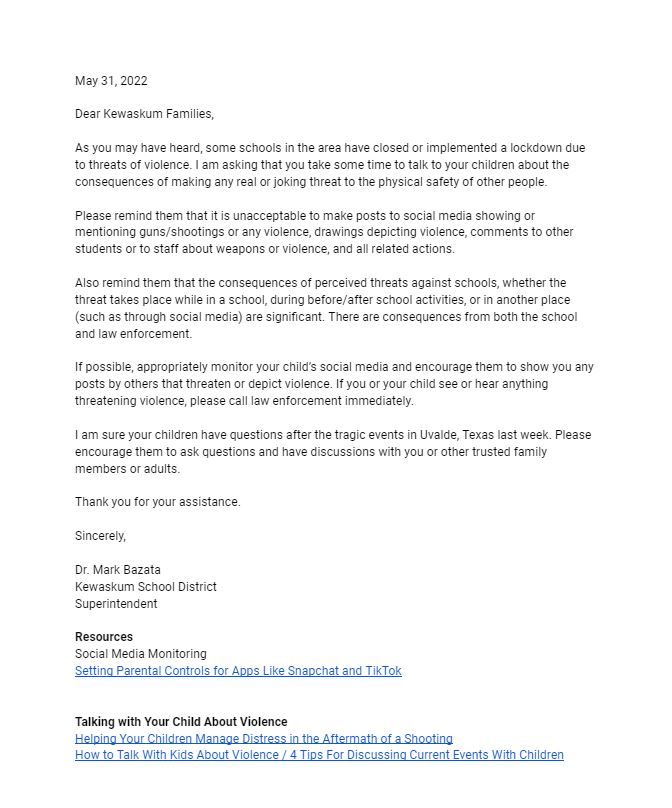 Chief Bishop said he received two phone calls about how the district handled the situation. "The callers wanted to know why the police were not called immediately, especially in the wake of current events," he said. "It's a fair question and I think it will be handled a little better in the future."
"Overall our school district does a nice job of being prepared," Bishop said.