Thursday Farmers' Markets in Kewaskum and Campbellsport
Area Farmers' Markets on Thursdays are the Kewaskum Market from 8 a.m.- noon in the Village parking lot behind the Annex Building and the Campbellsport Market is from 1 p.m. -5 p.m.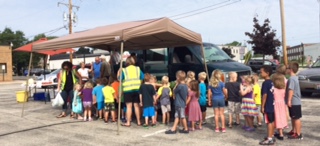 At Kewaskum Farmers' Market, Brandan Schuetz and Larry Fideler were busy selling watermelons to a local day care that was planning to introduce several varieties to the children. Fideler Farms sells yellow, orange and red watermelon along with tomatoes and raspberries. 
Linda Fideler had the clearest sign of fall with her white pumpkins.  She also had raspberries, tomatoes, peppers, corn, and eggs from Free Range chickens.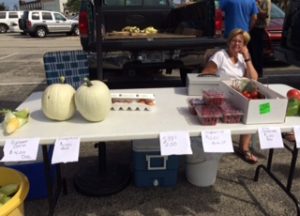 Doris Priesgen of County Blossoms Organics was a bit camera shy this morning. She had garlic, tomatoes and herbs.
Francis Tuttle had Paula Rec apples at Kewaskum and he will also be at the Campbellsport Market in the afternoon.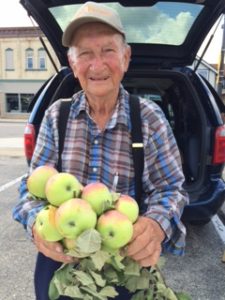 Sue Badura had her homemade pottery and was new to
the Kewaskum Market.
Harold Strohmeyer has been doing such great business with his large variety of fruits and vegetables that he had helpers the last few weeks.