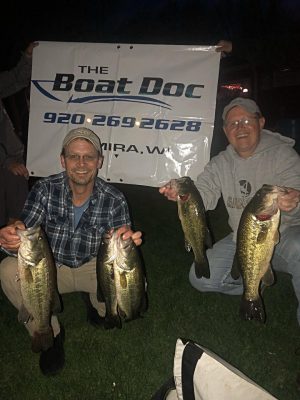 May 8, 2018 – Washington Co., WI – The Kettle Moraine Monday Night Bass Tournament kicked off its 16 week season on Monday, May 7 on Pike Lake.
Unseasonably warm temps made for a interesting night of fishing and many teams struggled for a 5-fish limit.
Four teams didn't let the conditions bring them down as they brought impressive 5-fish limits to the scale at the end of the night.
1st Place-Tom Faucher and Jody Dent who bagged an impressive 5-fish limit weighing in at 12.71 pounds. To top it off, they also had big bass honors with a 3.61 pound largemouth.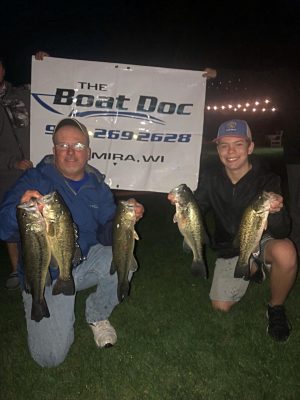 2nd Place-Doug Duernburger and newest member of the club, Mason Koerber, brought in a 5-fish limit at 11.96 pounds.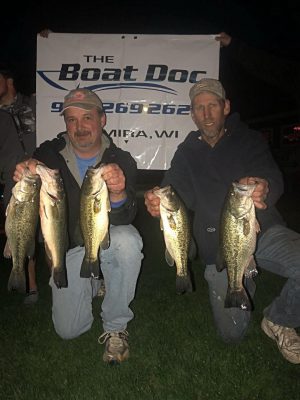 3rd Place-Marv Thiesen and Roger Kutz took the spot with a 5-fish limit coming in at 11.62 pounds. Marv had the hot stick of the night registering 5-fish for Angler-of-the-Year points.
4th Place-Rounding out the last money spot on the night was Caleb Niedfeldt and Adam Zinda with a 5-fish limit at 10.53 pounds.
The league is headed to Kettle Moraine Lake next Monday night, May 14.  For more information on the tournaments click HERE or visit the Facebook page