Sept. 10, 2018 – Slinger, WI – Race day. Wednesday was our first race and we were racing Giant Slalom. Sometimes on race days, I let the pressure get to me and get nervous. On Wednesday however, I kept telling myself I had nothing to lose and everything to gain, so I went into competition in a better mental place than usual.
Because It is my first junior worlds and I only have 3 full years under my belt, I knew I was matched lower than many of my competitors, but that didn't stop me from racing my heart out.
We inspected the course early and then waited to run. We were at the top of the mountain and the course looked like a lot of fun.
My first run I raced against a girl from Russia who has a World Cup title. I only lost by a few gates which made me feel good.
My second run was against a girl from Holland. We were neck and neck until she pulled ahead in the end. I ended up placing 28th out of 30 some. It wasn't the best but I felt good racing and there were many really good riders there.
On Thursday we raced slalom. I was nervous going into the race because my practice slalom runs hadn't gone great the days before in training.
My first run I raced the same girl from Russia. The run felt okay but I felt late on my gates. However, when I talked to my coach he said I looked better than I have before, which gave me much more confidence going into the second run.
My second run I raced a girl from Ukraine. I felt much better throughout the course. The other girl fell halfway through and almost took me out in my lane. She missed my by only a little and I finished strong.
At the finish she was crying and I felt bad because I know how it was to be in her shoes. I told her she raced well but she attempted to say she didn't speak English. So I gave her a hug and a thumbs up, telling her to breathe and she looked like she was feeling slightly better.
In slalom I took 23rd which made me feel great.
Many of the racers from Europe and Russia have been in many World Cups and in some cases, the Olympics. It was an honor to race against these amazing riders because I knew I could match myself to the top riders. For the women the Austrians took the top spots on both days. For the men, the Russians took many of the top spots.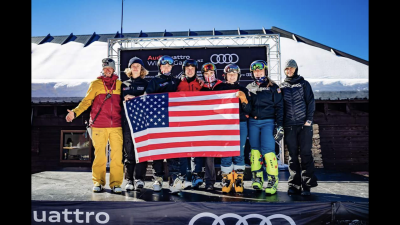 At the end of the day on Thursday, our team took pictures together. The entire event was competing in the 2018 Audi Winter Games as well as Junior Worlds. Because all disciplines were included, we found out the US Snowboarders won the overall! For the free ski events, the Russians won the overall.
I wanted to wish a huge congrats to US Rider Cody Winters for making it into finals both days. We had another rider that practiced with us named Christian de Olivera from Portugal; she also made it to finals both days and won 5th in Slalom on Thursday.
When we finally got off the hill, I packed up my stuff and drove with my mom from Wanaka to Queenstown where we were flying out 2 days later.
On Friday, I spent some time shopping around the town. In addition, we took a gondola in the middle of the town to the top of one of the mountains to get a view of all of Queenstown. At the top of the gondola was a luge course that had these little carts you rode down this concrete track. It was a blast. That night we met up with Kaiya Kizuka (the other US girl) and her family for dinner at a local Italian place.
Saturday was the day to come home and I traveled with my family. We made it to all of the flights and I said bye to them in Houston; I won't see them for another 3 months because I'm starting college in Colorado.
On my own again I was rejoined by my friend 'airport troubles. I had two hours in Houston to get through customs, get my luggage, go through another checkpoint, recheck my bags, go through a k-9 sniffing line, go through the security line, get on a train to my terminal, then run all the way to the end of the extremely long terminal to catch my flight.
Happy to say, they shut the plane doors behind me.
I got in 30 minutes early to Denver so my ride wasn't quite there yet, which was a good thing because the Houston airport decided not to put my snowboards on the plane. The same thing happened to Kaiya in Philadelphia. So I put in a claim, and my boards were delivered the following morning.
I am now all unpacked and trying to finish all my homework due for school tomorrow. I am super thankful for having this opportunity to go to New Zealand and compete. It was an amazing experience and I enjoyed every second (Minus the whole reoccurring airport issues).
Thank you so much again to my sponsors for helping me create memories. Also, thank you to everyone following my journey back home and supporting me through the entire trip.
One final thank you to Judy Steffes for posting my blog and keeping everyone updated.
Photos courtesy Lexi Bullis