Tough loss as Kettle Moraine Lutheran falls to Plymouth. By Rhaea Lehman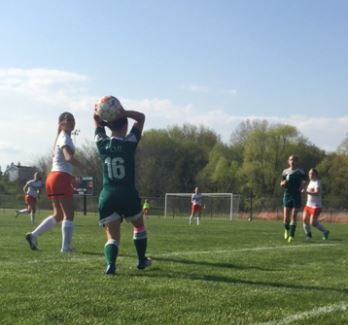 May 11, 2017 – Jackson, WI – Kettle Moraine Lutheran faced off for the second time this season against the Plymouth girls' varsity soccer teams. Both teams worked through sweltering heat to offer strong opposition to their opponent.
Strong shots were sent to Kettle's goal by Plymouth but Kettle goalkeeper Kelsey Knuth made many saves and deflections. In the middle of the game, it appeared as if the game might end in a tie.
Then, one after the other, two shots zipped into Kettle's goal in the 75th minute.
Up by two goals, Plymouth attempted to hold the ball in the corner of the field but was unable to maintain possession once there.
Kettle battled hard in the end but was unable to produce a goal. Kettle is using this challenging game to focus on specific ways in which it can improve.
Kettle's next games are on Saturday, May 13 where it will play a quad tournament against Sheboygan Falls, West Bend West, and Port Washington.