U.S. Open golfers offer praise about the makeup of Erin Hills | By Jacob Moeller
June 13, 2017 – Town of Erin, WI – The second day of practice at the U.S. Open at Erin Hills got off to a slow start, with heavy rains causing tee times to be delayed most of the morning.
The sun did come out by noon, however, giving spectators a bright and warm day.
Before heading to the course, several golfers sat down for a press conference in the U.S. Open Media Tent.
Stars such as Jason Day, Adam Scott, Jordan Spieth, and Rory McIlroy all were asked their opinion of Erin Hills, and all had plenty of good things to say about the course.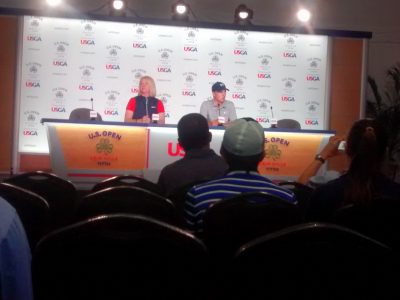 Spieth, who golfed previously at Erin Hills for the 2011 U.S. Amateur Open, praised the design and remarked that each hole's array of tee boxes will make it tough to prepare.
Adam Scott also commented on the variety of setups at each hole, making strategy a key driver throughout the tournament.
                           Jordan Spieth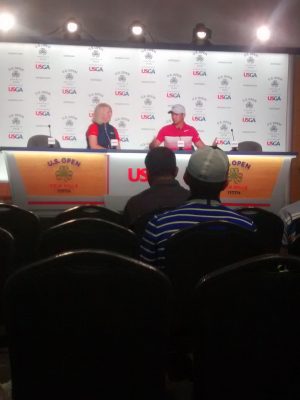 Another element mentioned by many of the pros was the bunkers.
The sand at Erin Hills is far more coarse and gravelly than is typical, making escape from the sand trap a difficult task.
A final point of discussion was the par 5 18th hole, an anomaly on the PGA tour.
Jason Day (photo right)  commented that the different possible approaches to this hole could lead to an exciting finish on Sunday.
On a side note:
USGA STATEMENT
Going into this week we knew that mowing certain parts of the fescue rough might be required should we have the combination of high winds and heavy rain. After 1.5 inches of rain fell overnight, we followed through with our plan to mow limited areas of fescue on holes 4, 12, 14 and 18.
About the author: Jacob Moeller is going to be a senior at Kettle Moraine Lutheran High School. Moeller is the youngest credentialed media reporter at the U.S. Open.