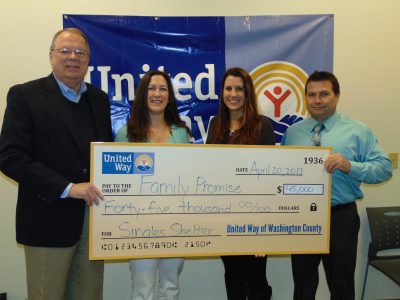 April 20, 2017 – West Bend, WI – The United Way of Washington County presented Family Promise of Washington County with a $45,000 grant for its emergency shelter and homeless singles program.
The funds will be used to support individuals who are homeless or at risk of homelessness in Washington County.
The community's only homeless shelter for single adults closed their doors more than five years ago. Short-term solutions were implemented by several agencies, but the temporary shelter also closed its doors last year.
Family Promise is moving forward with community leaders to develop a permanent homeless shelter for men and women, which is expected to open next year. The United Way grant will provide homeless individuals with assessment, case management, and emergency services during this gap period.
"Our board of directors issued this grant because they recognized the huge need," said Kristin Brandner, executive director of United Way of Washington County. "United Way provides the consistent program funding that local nonprofits rely on, but it's important that we can also respond to these kinds of community crises."
In addition to this grant, United Way of Washington County also provides funding for Family Promise's women's and children's shelter program and homeless health care services provided in partnership with Albrecht Free Clinic.
"United Way is one of our strongest advocates and partners," said Kathleen Christenson-Fisher, executive director of Family Promise of Washington County. "We're grateful for this grant because it allows us to help people who need help now and it creates a bridge until the permanent shelter program is up and running."
This project has been spearheaded by the Singles Shelter Council, which is led by Family Promise of Washington County and includes representatives from United Way of Washington County, St. Vincent DePaul, West Bend Police Department, Salvation Army, Washington County Human Services, Friends of Abused Families, and the Department of Corrections.