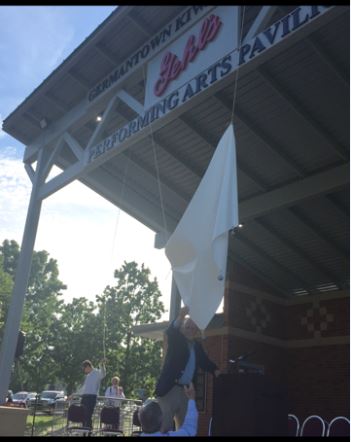 June 21, 2018 – Germantown, WI – Smiling faces filled the grounds at Fireman's Park in Germantown on Wednesday for the official unveiling of the Gehl Foods Performing Arts Pavilion.
The Pavilion was introduced in 2009 as a concept for a small band shell structure in the middle of the park. The Germantown community loved the idea, and many individuals and businesses generously donated to the project.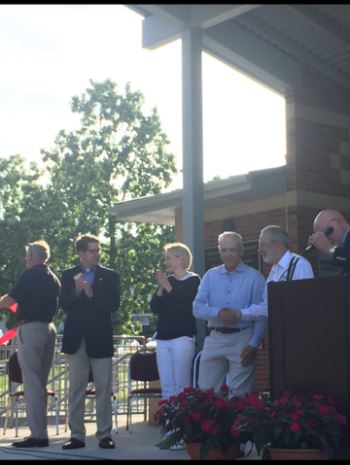 Several of these donors were present Wednesday afternoon including representatives from Fibreform Containers Incorporated, and Keller Incorporated, as well as three members of the Marine Corp League Kettle Moraine Detachment.
Several members of the Gehl family were also at the event. Gehl Foods, a leading manufacturer of dairy-based products, has been based in Germantown for over a century.
The Gehl family created a wave of enthusiasm for the project with an upfront $100,000 donation and later an additional $25,000 donation.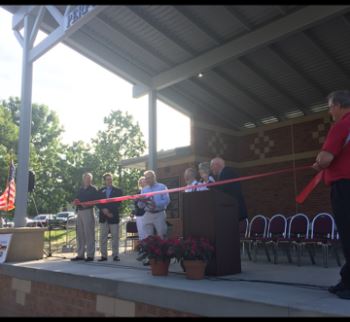 The Germantown Kiwanis also played a huge role in the development of the Pavilion. John Krause, a member of the Kiwanis, led a campaign that raised hundreds of thousands of dollars and kept the interest high.
The plan for a small band shell gave way to a beautiful pavilion that will become the focus of many Germantown activities. The Village President of Germantown, Dean Wolter, emphasized that, "This pavilion will act not only a grounds for celebrations such as 4th of July, but also as a prominent performance arts center in Germantown."
Wolter continued by accentuating the support the community has had for the project.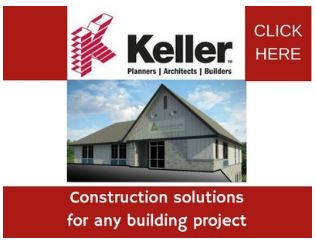 When referring to the foundation of the stage, which is constructed of bricks with the engraved names of some of the more prominent donors on them, Wolter commented, "Each one of these bricks represents a person or a family who believed in this project, and expressed that support through a rather large donation. Behind those, are the bricks that were purchased when people donated $25, $10, or $5. No matter the donation size, everyone in the community was part of this process, and we will all be able to enjoy this fantastic new addition to this park."
The official program concluded with the cutting of a ceremonial ribbon, but the festivities were far from over. Afterward popcorn, soda, and snacks were provided for those in attendance.
At this point, the Germantown Community Band filed onto the Pavilion. This band, directed by Jim Barnes, is celebrating its 20th
anniversary this year, and the band's many diverse members were thrilled to be playing on the newly-opened stage.
As the first notes of the Star Spangled Banner erupted from the brass and wind instruments, it became evident the Gehl Foods Performing Arts Pavilion was well worth all the time, effort, and dedication.