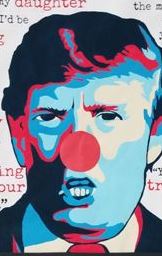 WARNING: Mature content.
June 20, 2018 – Mayville, WI –  A piece of "protest art" by an 11th grader in the Mayville School District drew some harsh comments about what sort of education is being taught in the public schools in the small community of just over 4,900 in Dodge County.
Parents and taxpayers questioned the graphic nature of the piece that was part of a K-12 Art Fair held this past May at Mayville Middle School.
Lifelong Mayville resident Tom Jacquot was first to address the school board.
"I was told a student presented a picture of President Trump with words containing "PUSSY," "PIECE OF ASS," and "TREAT 'EM LIKE SHIT" "PRETTY picture YOU DROPPING TO YOUR KNEES" written in big red letters on the piece. Donald Trump's picture had a big red clown nose on it. So apparently it's okay to use that kind of language now in the school district … that is … if it fits their narrative I guess!

I need to ask what the answers were to the younger students when they asked what the words really meant?

I'd like to know who in their right mind would think this was a fitting thing to do by presenting it! Schools are for teaching children and learning to be good citizens while respecting boundaries and acceptable behavior and norms. Tell me what is good about this?
School Board member Joe Hohmann passed out copies of the 'protest art' drawing prior to speaking to the board.  He mentioned how the student had First Amendment rights but was the Middle School Art Fair an appropriate venue for the piece.
After the art fair in May calls were placed to School Board President John Westphal and District Superintendent Scott Sabol. Neither returned calls or offered a comment.
On Wednesday night, Westphal responded to parent concerns saying "we will make sure there will be some consequences for this."
Westphal said he "did not see the art."
Board member Norber Dornfeldt said kids see this sort of stuff on television. Dornfeldt acknowledged the piece was in the Middle School but said he didn't see it.
When two children from the Mayville Middle School came home and asked their parent about some of the words in the picture the parent said she tried to get a hold of teachers and administrators. Below is an email response from Mayville High School art teacher Sarah Heideman sent to a parent on May 23, 2018.
The school district's Ted Hazelberg, also sent an email response to the parent on May 21, 2018.
From: Sarah Heideman <[email protected]>
Date: Wed, May 23, 2018, 7:36 AM
Subject: Re: protest art – Invitation to view
Cc:, Scott Sabol <[email protected]>, Bob Clark <[email protected]>, Ted Hazelberg <[email protected] >, John Schlender <[email protected] >, Jessica Stortz <[email protected]>
My student's assignment was to create a talking conversation through a piece of artwork about something that they felt strongly about. The fact that a discussion is happening is a positive outcome, as well as, a learning opportunity. In the process, I apologise for not thinking about the placement and content for a younger viewer, since the show is over, I cannot fix it this year, but can promise in the future that these things will be addressed and learned from.
Thank you for raising the questions,
Sarah Heideman
From: Ted Hazelberg [mailto:thazelberg@mayville. k12.wi.us]
Sent: Monday, May 21, 2018 8:00 PM
Cc: Scott Sabol; Sarah Heideman; Bob Clark; John Schlender; Jessica Stortz
Subject: Fwd: protest art – Invitation to view
Good Evening,
I copied your message that you sent to me through ClassDojo down below. I included others in this response as well.
I understand your concern about a certain piece of art that was displayed at the Middle School Art Show this past weekend. I have no control over what pieces of art are being displayed. I do know that there was a sign near this piece of art that talked about protesting. Please see slides 8 and 9 in Mrs. Heideman's slide presentation in Google Slides.
If you feel the need to talk with someone who was in charge of the show, please contact Sarah Heideman, High School Art teacher. I have already talked to Sarah about your concern. She can answer any of your questions/concerns regarding this situation.
Respectfully,
Ted Hazelberg
Board member Joe Hohmann said he thinks this is a big part of the First Amendment but it was inappropriate for the art show because Mayville is a family-oriented school district.  "Every parent should be questioning what are we teaching our students but they should know that hopefully from this point going forward no conduct like this will end up happening in the future," he said.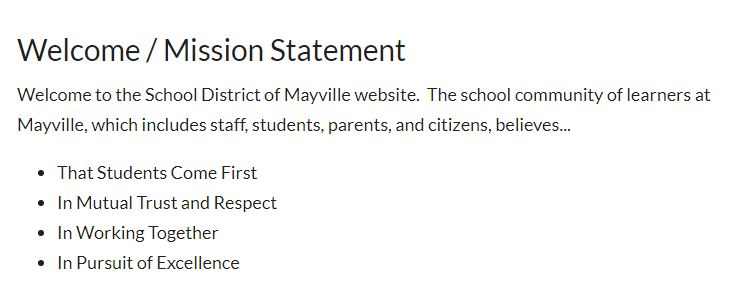 On June 14, 2018 the principal from Mayville Middle School, John Schlender sent a letter to parents in the Mayville School District. A parent forwarded that letter, which she received on Wednesday, June 20, 2018. The final entry notes Schlender is leaving for a new position as Educational Consultant with CESA 6 in Oshkosh. Board president Westphal said Schlender did not leave because of the 'protest art' incident but because he was offered another job.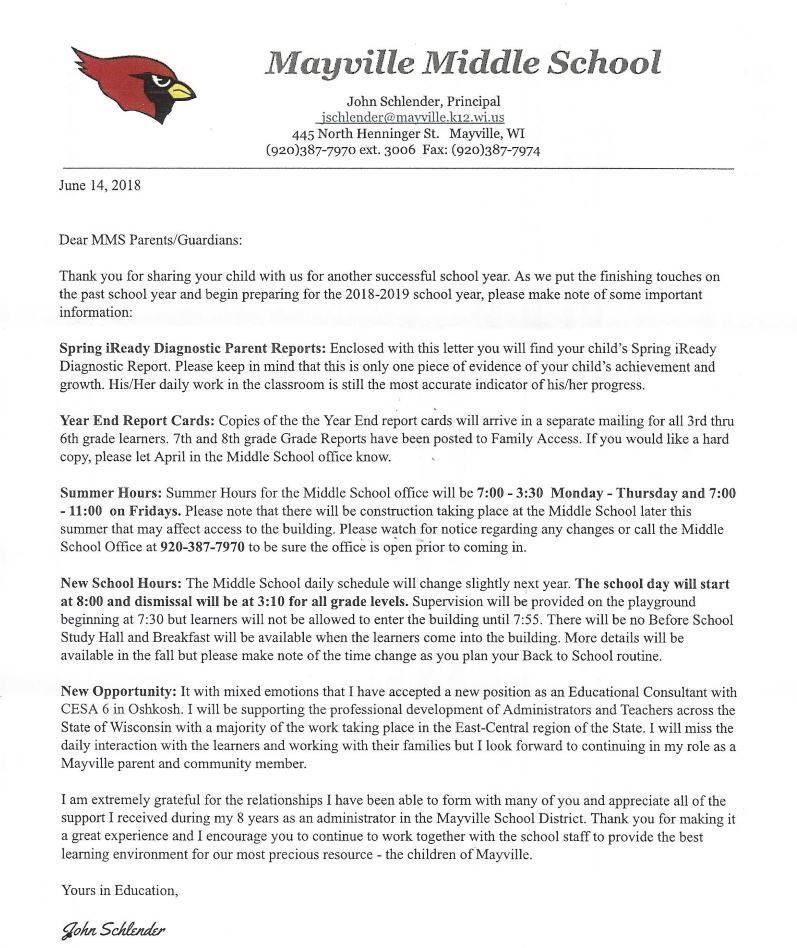 Below are the full comments from life-long Mayville resident Tom Jacquot.
I was told a student presented a picture of President Trump with words containing "PUSSY", "PIECE OF ASS", and "TREAT 'EM LIKE SHIT" "PRETTY picture YOU DROPPING TO YOUR KNEES" written in big red letters on the piece. Donald Trump's picture had a big red clown nose on it. So apparently it's okay to use that kind of language now in the school district … that is … if it fits their narrative I guess!

I need to ask what the answers were to the younger students when they asked what the words really meant?

I'd like to know who in their right mind would think this was a fitting thing to do by presenting it! Schools are for teaching children and learning to be good citizens while respecting boundaries and acceptable behavior and norms. Tell me what is good about this? And we wonder why children think nothing of harming one another if this is what is being taught or promoted! And the artwork was not just promoted or taught…it was held up as the crowning jewel… It won! I wish I really knew how and who voted to make it the winning entry. And then it was sent on to the Art Contest at UW-WC as representative of what is the best Mayville School District can offer??? Really?

The picture won so why isn't it prominently shown here at the Administration District office along with all of the others? It was on the School District Facebook page last week but suddenly it was removed yesterday. Could you tell me why?

A caveat. If the student was trying to show that Sexual and other types of harassment are wrong, they certainly succeeded but was there any notation to that effect on the picture by the student. None that I could tell from what I could see after having the picture forwarded to me.

Would the art teacher have felt it okay if it was a picture of herself, a fellow student, the Principal, the Administrator?

Some of the Mayville School District following policies that I will list discuss Sexual and Other forms of Harassment and each one was blatantly disregarded and willfully broken by the student and then condoned by the Art? Teacher when the student's artwork? If you can even call it that; was presented here at Mayville and at UW – WC.

5720
5517
5516
5600

0145

IMHO The teacher has proven to be untrustworthy and shown to be incapable of following the rules and policies of the school district! By condoning this picture.

I want to know why no other teachers or member of the Administration (look directly at Scott Sabel) didn't have enough guts to pull this picture knowing it violated multiple school district policies which I have previously listed. I can't believe not one of the teachers pulled it out!!!  Are they ALL that morally inept? In my mind they are just as complicit as the Art??? Teacher in condoning this. Or was it because this is not really original artwork.

I hope that because the Art??? Teacher willfully broke not one but several District policies by condoning this disgusting piece that she will be immediately dismissed for just cause and not simply given a slap on the wrist and told oh, you should have known better.

I'd like to finish with this thought.

"Do you honestly believe it is ok to degrade women by making these types of comments, so then "why is it ok to have that picture presented as part of the artwork representing Mayville School District at its best."