Update on fire at Westbury Bank in Kewaskum | By Kewaskum Fire Chief Mark Groeschel
May 30, 2019 – Kewaskum, WI — The Kewaskum Fire Department was dispatched at approximately 09:48 hours this morning, May 30, 2019, to a reported structure fire at the Westbury Bank, 1052 Fond du lac Ave in the Village of Kewaskum.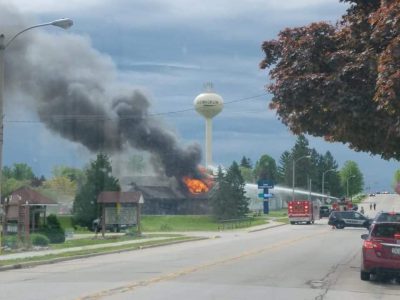 Kewaskum Fire units responded and upon arrival found a single story structure with heavy smoke showing from the west end of the building. Additional departments were requested via the Mutual Aid Box Alarm System, or MABAS, to the still level to respond to the scene to assist Kewaskum Fire Department.
Those assisting Departments were West Bend Fire Department, Boltonville Fire Department, Kohlsville Fire Department and Newburg Fire Department. The Kewaskum Police Department and the Washington County Sheriff's Office were also on scene.
Fire crews were initially sent inside the structure for fire attack and eventually were pulled out of the structure due to the western part of the roof collapsing. The fire was brought under control within an hour and there is no damage estimate at this time.
Firefighters remained on the scene for approximately 3 hours. There were no reported injuries and the fire is still under investigation by the Washington County Sheriff's Department. The exact cause and dollar loss is undetermined at this time.
Photo courtesy Jeff Reimer