Hartford, WI – Due to President Trump's recommendation that people should avoid social gatherings of more than 10 people to slow the spread of COVID-19, the library will be closed starting March 17, 2020 until the foreseeable future. As you know, this situation is constantly changing. We will keep you updated as things change.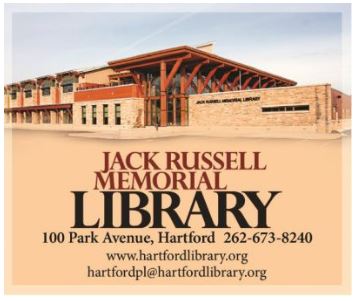 Please note, we are working on how we can continue to provide library service to you during this time. We always have our online resources such as Libby and RBDigital. In addition, we have worked to compile a list of free online resources students can use at home during the school quarantine.
The list can be found HERE under the heading "School Quarantine Resources."
We thank you for your patience and cooperation.
Dear Citizens
Please understand I did everything I possibly could to keep the library open and accessible to all of you. I worked all weekend on a safe distancing plan and getting the space together to open up this morning at 9am.
The decision to close the facility is because of the CDCs's announcement regarding no more than 10 people gathering at a time. In order to staff our 35,000 square foot building, we need a minimum of five people to cover three public service stations and answer the phones. I am as unhappy as you are in having to shut the building down.
I've received more unfortunate news in the last hour – As of 5 p.m. this afternoon, March 16, 2020 the statewide library delivery network has been shutdown until April 6. This means items that have been requested from other libraries are not going to shipped until at least April 6.
As of this writing, I am working on trying get curbside delivery setup for items available at our library and items received in tomorrow's delivery. Please be patient as I work with staff and figure out how to get this implemented for all you.
Please know the entire City of Hartford is doing everything possible to not completely shut down.
Watch for more details and updates here and on our website.
Thank you very much for your patience and understanding!
Jennifer Einwalter
Library Director