Upgrading facade at the former Walgreens in WB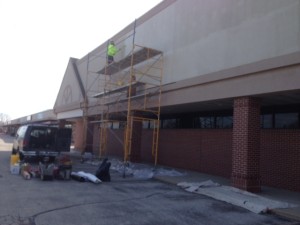 A little bit of paint here and a bit of spackling there as a small face lift was given this week to the exterior of the former Walgreens at 806 S. Main Street in West Bend.
The building has been vacant for more than five years. It closed Sept. 4, 2010 after Walgreens built a new location and moved south down the street, closer to the intersection of Paradise and Main.
Continental Properties owns the building at the corner of Decorah and Main.
Walgreens originally moved in in 1995.
Corporate officials with Walgreens had said it was "normal corporate practice to sign long-term leases that can run anywhere from 40 to 60 years."
In 2010 the Walgreens district manager Rick Sterna said, the company still had "a five-year lease on that and it will go into our surplus property."
Sterna said it was their goal not to  "let a pharmacy go in there."
While Walgreens is working to keep out the competition it's worth noting the new Meijer store will have a drive thru pharmacy. The new Meijer will be located a stone's throw from the newer Walgreens on S. Main Street.
Meijer will break ground this spring on the site that used to be home to Bend Industries.
The vacant property on Decorah and Main is currently being marketed by Mid-America Real Estate. It's listed for lease/sale.