UW-Washington County awards 20 Bachelor and 99 Associate Degrees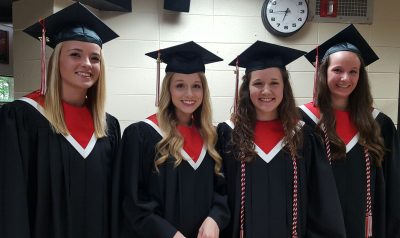 May 25, 2017 – West Bend, WI –  The University of Wisconsin-Washington County recognized the accomplishments of students completing degree requirements during the 2016-17 academic year during a commencement ceremony this week.
Students completing a four-year bachelor degree through collaborative programs with UW-Milwaukee and UW-Oshkosh and UW-Platteville included:
Fredonia: Brady Watry, Mechanical Engineering
Grafton: Kristine Carroll, Nursing; Peter Chandler, Mechanical Engineering
Hartford: Echo Borges, Nursing; Joanna House, Nursing; Katelyn Laatsch, Nursing
Jackson: Sierra Struck, Nursing
Kewaskum: Troy Kofler, Nursing; Christa Theisen, Nursing
Richfield: Alyssa Capek, Nursing; Mikayla Schuster, Nursing
New Berlin: Jonathan Howland, Mechanical Engineering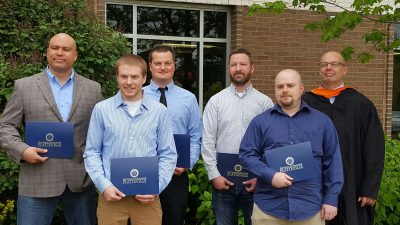 West Bend: Laura Bailey, Nursing; David Berres, Mechanical Engineering; Kayla Miller, Nursing;
Kristina Wentz, Nursing; Sean Murphy, Human Services Leadership; Quinn Paruch, Human Services Leadership; Jessica Swenson, Human Services Leadership; Rusty Tillman, Mechanical Engineering
To earn an Associate degree, students must earn at least 60 college credits in five different areas and maintain a 2.0 grade point average (on a scale of 4.0). Associate degree candidates* included:
Allenton: Dianna Lightner
Belgium: Bailey Lecato, Elizabeth Weidert
Campbellsport: Kaitlin Konen, Casey Krakowski, Traik Stange
Cedarburg: Lauren Bartell, Donald Christianson, Ciara Dube, Matthew Dubinski, Paul Klotz, Alexandra Mathusek, Montana Weiland
Colgate: Andrew Griebler, Joshua Marks
Fredonia: Devin Desmondez, Jennifer Eisenheim, Holly Hamm, Jacqueline Janik, Christopher Peterson, Aaron Rathke, Evan Rathke, Mark Shininger
Germantown: Rebecca Brown, Calvin Gardner, Randy Howard, Nicole Hug, Scott Jeske, Joseph Jewell, Justin Nolan, Chad Poppy, Jessica Radliff, Elizabeth Reilly, Travis Valenti
Grafton: Kayla Armstrong, Atira Boyce, Sarah Burger
Hartford: Tiffany Dubey, Jeremy Ehley, Shaun Fischer, Hannah Hamberg, Mary Hermann, Rachel House, Thomas Lang, Amy Lasiewicz, Alexandria McElrone, Carly Medeiros, Macy Moldenhauer, Tyler Ojala, Karl Voelkel, Michael Wereley, Lindsey Wesner, Emmett Williams, Hannah Young
Horicon: Morissa Young
Hubertus: Nicholas Karch
Hustisford: Rebecca McKinley, Dyland Stemper
Iron Ridge: Austin Kriewald
Jackson: Marisa Moser, Emalie Ramthun, Mitchell Saari, William Style, Brady Thompson, Colin Wanie
Kewaskum: Breanne Clark, Alli Groeschel, Abigail Leister, Rachel Luedtke, Derek Schulz, Danielle Zavala                                                                                  
Mayville: Keaton Allison
Menomonee Falls: Jose Perez-Hernandez, Evan Teuteberg
Mequon: John Lane
Milwaukee: Christina Kissel, Amber Vanlangen
Nekoosa: Britney Peterson
Port Washington: Shelby Brown, Sarah Michael, Madison Nehrbass, Gabe Verfuerth
Richfield: Kylee Cronin, Brooke Sprtel
Rubicon: Adam Butler
Saukville: Mary Baumann, Kyle Dickson, Heavin Gallipeau
Slinger: Tyler Brown, Sarah Nagel, Nicholas Prokopowicz, Taylor Traina, Rachel Uecker
West Bend: David Aydt, Michael Backhaus, Devin Baun, Chelsee Bradt, Joshua Breuer, Derek Brzeski, Benjamin Brixius, Maxwell Brown, Alissa Carter, Nicholas Casper, Joe Coarsey, Tristan DeBow, Zachary Dotzler, Jerad Felix, Shawn Funmaker, Elizabeth Garcia, Mary Greuel, Jamie Griggs, Brandon Grudzinski, Ryan Hanrahan, Lauren Hansen, Alexander Hart, Jacob Hutchins, Edison Ihlenfeld, Kerim Kaltak, Jack Kehoe, Kirsten Kindness, Jessyca Koch,  Spencer Lache, Collin Liebherr, Kaitlyn Long, Katelynn Marohl, Christopher McCartney, Simon Mcghee, Caitlin Michalski,  Jenna Nettesheim, Andrew Pryor, Kirsten Robinson, Rebecca Rynes, Tiffany Rynes, Emory Salberg, Alyssa Schmidt, Faith Schmidt, Katherine Sheridan, Preston Sponholz, Brooke Steavens, Harrison Steinhardt, Brian Stoffel, Kevin Vogelsberg, Megan Vollmer, Stephanie Webster, Jacob Yochem
*Note: The listing of candidates is subject to revision after final grades are released.
The keynote speaker was Washington County Circuit Court Judge Todd Martens and the student speaker was UW-WC Student Government President Mary Greuel of West Bend.