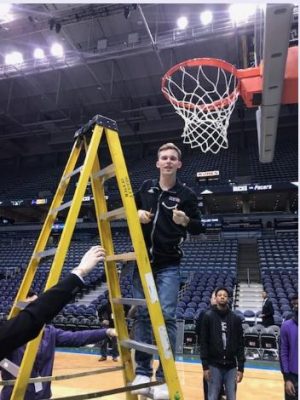 March 5, 2018 – Washington Co., WI – The Milwaukee Bucks honored the UW-Washington County men's basketball after its game against the Washington Wizards by letting the team on the floor to cut down one of the nets.
Pictured are Trenton Walstra (above) and AJ Barnes (below).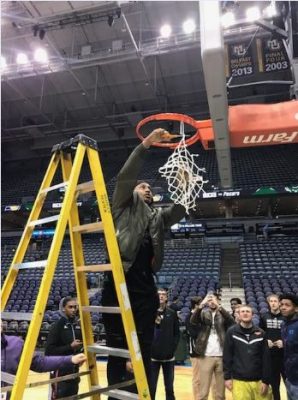 UW-WC won the Wisconsin Collegiate Conference State Championship.  The Wildcats beat UW-Sheboygan for the title.
When something does not happen for 50 years, you begin to wonder if it will ever happen at all.  Such was the case for the University of Wisconsin – Washington County men's basketball program.  That is until Sunday, February 25, 2018 when the Wildcats finally broke through and captured its first state championship for the school that originally opened its doors in 1968.
Many of the Wildcats fans had waited a long time for this day, and through the years, a great number of dedicated hard working student-athletes have attended UW-Washington and played on the men's basketball team.  The program also features a long list of excellent coaches, and a wealth of tremendous staff members that supported the team.  This championship was dedicated to all of the people ever associated with UW-Washington County as much as for the young men on the current roster.
The Wildcats, who nearly won the state championship last season, advancing all the way to the final game in 2017, graduated all but two players from that team.  The two players that returned for this season joined with 10 freshmen and developed a team bond and chemistry that led the team over their highest hurdles.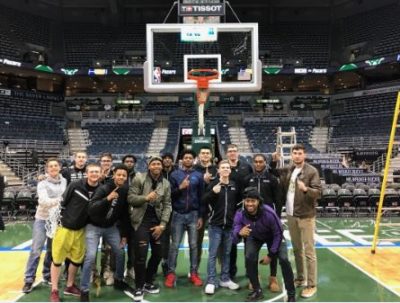 The sophomores will graduate, and several of the freshmen will be taking their talents to 4-year schools next season, which creates a tremendous opportunity for incoming freshmen or incoming transferring sophomores to enjoy the amazing experiences provided on the campus of UW-Washington County in West Bend.
Incoming players will find that we place tremendous importance on our academics.  In addition to winning the state championship on the basketball court, the players of the 2018 team also performed extremely well in the classroom and set new standards for high grade point averages academically.
One of the keys to the Wildcats season was that the team executed well in close games, winning all seven of their games that were decided by only one or two baskets.  Overall, the Wildcats finished 21-1 on the season and undefeated 16-0 in conference action.  Wildcat Nation was loud and proud at the Final Four played at Just a Game Fieldhouse in Wisconsin Dells on championship weekend, helping the team to victories in the semi-final (91-79 over UW-Baraboo) and the final (78-57 over UW-Sheboygan).
All 12 players saw action in both of the games in the Final 4.  In fact, the tremendous depth of the Wildcats was their greatest strength throughout the 2017-2018 season.  All 12 players played with high energy and demonstrated exceptional basketball IQ.  And there was definitely strength in diversity on this Wildcats team, just as there was last season, as players came together from all walks of life to share their life experiences and collectively work together for the success of all.
Thanks to the tremendous athletic advice and care of their outstanding Athletic Trainer, Lori Dauss, the Wildcats managed to complete the season without any significant injury, and no player missed any games due to any injury.  The incredible efforts of Athletic Director Debbie Butschlick made the season run extremely efficiently and pleasantly for the entire team.
The team did not cut any players, and began the season with 14 young men on the roster.  All 14 played in the games during the first semester.  Due to a couple of low grades, which limited two of the players to practices only, twelve of the players continued on for the second semester, and finished by reaching the goal that everyone had for the team.
The returning sophomores this season were point guard Derrick Chaney and shooting guard Sam Krause.
Derrick arrived last season from Oswego, Illinois, where he was 6th man on his very good high school team, and contacted us for an opportunity to play basketball in college.  He proved to be a very mature young man worked hard academically and athletically and got stronger as time went on.  By the time his career at UW-WC ended, Derrick had become one of the toughest competitors driving to the basket and scoring in transition in the conference.  Additionally, he served on student government at our campus.
Sam, an avid golfer and graduate of Washington County Home School, originally began his collegiate career at Coastal Carolina University, just minutes from Myrtle Beach, but returned home to Cedarburg and first joined the Wildcats for the 2nd semester of last season.  Among many other good things, Sam will be remembered for his incredible talent of hitting 3-point shots and for his dedication to the team.
Both sophomores showed their leadership during the season.  As did nearly every member of the team, they stayed after practices to work on development of individual skills.  During that time, they sometimes shared stories about the previous season when the Wildcats were predicted to finish in 6th place in the Eastern Division, but wound up advancing all the way to the WCC championship game, losing a heart breaker to perennial state power UW-Waukesha.
This year, the preseason poll picked the Wildcats to finish in 3rd place in the Eastern Division largely because ten of the players from last season graduated or transferred on to 4-year schools.  The poll did not take into account the collective heart, work ethic, and passion for basketball of the incoming freshmen.
Here is how things came together for the team this season…
Koy Walsh of Campbellsport was the first freshman player to sign on with the Wildcats in the spring.  Koy was predominantly a perimeter player in high school.  He converted to a post player for the Wildcats due to the team's general lack of size.  He adjusted extremely well, using his tremendous hand-eye coordination to grab rebounds and score points.  He was also one of the top defensive players in the conference.  Plus, Koy is a high honor roll student, nearly 4.0 GPA.  Walsh was always willing to dive on the floor for steals and saves, even in practice.  He hauled in 8.4 rebounds per game, scored 9.2 points per game, and shot 77% on free throws.
Ross Riegleman was next to sign up.  He arrived from Oconomowoc, and worked all spring and summer long on his game, sometimes until midnight.  Though he did not have the opportunity to play on the high school team at Oconomowoc, he frequently worked out with a basketball trainer in Milwaukee and emerged as a quality collegiate basketball player.  He was an excellent shooter and passer for the Wildcats and a young man with truly outstanding character in every way.
The next player to join the Wildcats in the spring was Mitchell Behm of Slinger.  Mitchell was a sophomore and transferred from UW-Oshkosh where he attended his first year.  Though slightly undersized for his post position, Mitchell gave incredible effort every play on the floor and was among the scrappiest players in the league.  He played many crucial minutes filling in for the limited number of post players that the Wildcats had, and he generally guarded the opponents best post scorer.  He will be going back to a 4-year school next season.
Darrian Langerman of Grafton was the next player to sign on at UW-WC.  At 6'6, Langerman was the tallest of the Wildcats this season.  He was a very talented shooter and rim protector, but only played first semester.
After contacting every coach in the general area, 42 high school coaches in all, there were no other local basketball players that were interested, so the Wildcats opened up opportunities to players from out of the area that were seeking an opportunity to get a terrific Big 10 level education, and also play basketball.
AJ Barnes Jr. out of Bishop McNamara high school in Illinois was the first out of state recruit.  Barnes Jr. led the UW-WC team in scoring (14.4) and rebounding (8.6) this season, was selected 1st Team all-conference, and received the Player of the Year award in the Eastern Division.  He was perhaps the best communicator on the team as well.  AJ was very much a part of organizing the team together in the late spring and early summer.
After many of the local players the Wildcats were recruiting decided to attend 4-year schools instead, AJ found players that were interested in the amazing University in West Bend.  Soon his cousin J. Braxton Thomas joined the Wildcats.  Thomas, who played for Bradley – Burbonnais, was one of the top 3-point shooters in Illinois as a high school senior last year.  J. Braxton arrived at UW-WC like his cousin AJ, with an incredible passion for basketball and education.  Eager to get started in college, both Barnes Jr. and Thomas moved to West Bend and enrolled in summer term classes.  In the fall, both Barnes Jr. and Thomas joined the student government on campus.
Thomas led the Wildcats team in 3-pointers this season with 58, and once scored the first 12 points of a game.  He was a very impressive defensive player as well, smoothly rotating positions on defense and always applying maximum pressure.  Thomas was selected all-conference, and also selected to the all-tournament team on Final Four weekend scoring 16 points in the semi-final and 18 points in the final.  J. Braxton scored 12.6 points per game on the season and connected on 77% from the line.
Later, a third player from the same AAU team that Barnes, Jr. and Thomas played for joined the Wildcats.  Trenton Walstra of Wheatfield, Indiana brought incredible toughness, quickness, and skill to the Wildcats team.  Originally, Trenton was offered a scholarship to a school in Indiana, but the school made a coaching change in the spring which left Walstra without the same offer.  Instead, he chose to join his AAU teammates and spend his freshman year at UW-Washington County.  Next year, Trenton is planning to attend either Valparaiso or Purdue.  When it comes to effort, it doesn't get any better than Trenton Walstra.  Watching game films, sometimes he rotated to help on defense, then rotated again, then still managed to get back and close out on his man, essentially covering 3 players in one sequence of a play.  Walstra was frequently diving on the floor, sacrificing for the team.  He missed all of the first semester games with a broken left hand but he shot right-handed and his shooting was not effected when he returned as he led the Wildcats in 3-point shooting percentage at 44%.
Another player who was offered a scholarship but lost out due to a coaching change at Central Washington University and instead chose to attend UW-Washington County was Taylor Tizdump of Wind River High School in Wyoming.  Tizdump was an all-state selection and led his team to state championships in both his sophomore and senior seasons.  Taylor was a very strong post player for the Wildcats, but was unable to play second semester.  He was extremely agile for a post player and could score either left handed or right handed.  He played very tough defense.  Plus, while he was at UW-WC he became an excellent 3-point shooter.  He will be returning to Wyoming next season.
Adrian Huerta of Jones College Prep in Illinois decided to join the team next.  Huerta attended Aurora University expecting to play basketball his first year, but soon learned that many 4-year schools over recruit and the opportunities are not always what they appear.  So Adrian saved a year of eligibility, contacted some schools including UW-WC for an opportunity, and transferred to join the Wildcats in the summer.  Huerta contributed to the Wildcats in many ways.  Adrian was far and away the team leader in assists with 68 and steals with 50 during the season.  Whenever a clutch basket was needed, Adrian was the man for the job.  He scored 12.8 points per game and added 5 rebounds per game, plus he shot 78% on free throws.  Adrian was selected all-conference and also all-tournament.  In the semi-finals victory over UW-Baraboo, Huerta poured in a game high 23 points with 5 rebounds and 4 steals.  Then the next day he helped seal the championship with 15 points, 12 rebounds and 4 steals against UW-Sheboygan.
One of Adrian's youth coaches was David Wiley, and Wiley had a son graduating high school and looking to further his education and play college basketball.  David Wiley, Jr. from Harlan Community Academy in Illinois joined the Wildcats toward the end of summer vacation.  Wiley Jr. was an exceptionally quick, high basketball IQ player who always raised the energy level of the entire team whenever he entered the games.  He proved to be a terrific mid-range shooter, and always supplied the Wildcats with high-pressure defense and aggressive rebounding.  He played especially well in the Final Four, helping the Wildcats to the championship.
Also, late in the summer, Ahmad Pender, Jr. chose to transfer from Central State University in Ohio.  Ahmad is David's cousin, one year older, and also graduated high school from Harlan Community Academy.  Pender, Jr. was not given much of an opportunity to play basketball at Central State, but he was definitely a premier player at UW-Washington County.  Possessing astounding leaping ability, Ahmad provided the fans with some of the most spectacular dunks in the history of our university.  He excelled at athletic moves to the basket and was by far the Wildcats most efficient scorer, connecting on over 67% of his 2-point shots.  Like his teammates, Pender Jr. wanted this championship very much and he became especially vocal at the Final Four.  He also played terrific basketball, challenging much taller players inside and converting on 9 of his 10 shots over the last two games.  Prone to foul trouble, Ahmad played only 17 minutes in one of the last two games, and 14 minutes in the other, but the significant quality of his minutes were immeasurable.  Ahmad was selected all-conference for the season scoring 13.1 and adding 5 rebounds per game.  He will be transferring back to a 4-year school next year.
The Wildcats team received a special bonus when Tariq Frett arrived from Wekiva, Florida, at the beginning of the school year.  Tariq had taken a year off from college to attend to a sick relative, and was looking for an opportunity to experience college basketball and receive UW academics.  Like many other members of the Wildcats team, Tariq is a very religious young man and comes from a wonderful caring family background.  Frett has spent a lot of time in Florida and Wisconsin talking about basketball and life with the younger generation, especially with children who are experiencing poverty.  On the basketball court, Tariq was nearly unstoppable driving to the basket using elusive and powerful moves.  He was an outstanding teammate and very versatile, playing virtually every position on the floor, whatever the Wildcats needed at the time.
Together, these Wildcats players accomplished great things this season, but each of them is destined to accomplish much greater things throughout their lives.  Although winning games and championships is always a common goal of every team, at the University of Wisconsin – Washington County we realize that the most important experiences that our players have are the times they share together on and off the court, and the bonding relationships that they make for a lifetime.  These young men will all graduate from college in the future and lead happy successful lives.  Among their multitude of great memories they will have throughout their lives, they will always hold a special place in their hearts for the university they attended and team that they played on.