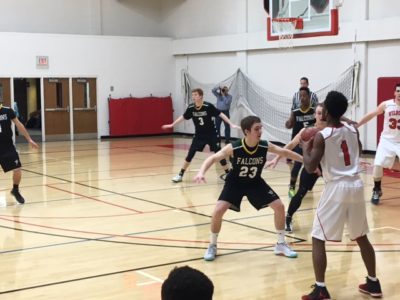 Nov. 30, 2017 – Washington Co., WI – The UW-Washington County mens basketball team played a flawless two minutes in the second half of its game against UW-Manitowoc and came from behind to win 69-65.
The rally began with a 3-pointer from Adrian Huerta, and was followed by two free throws from Koy Walsh and two more from Taylor Tidzump.
The play that iced the game was a steal by Tidzump that resulted in a fast break which was finished by AJ Barnes with 20 seconds to play giving the Wildcats a 4-point lead.
Huerta added one more free throw with eight seconds remaining.
Credit J Broxton Thomas with an amazing defensive play as he ran past two cross screens to close out strong on Manitowoc's top 3-point shooter forcing him to pass the ball on Manitowoc's second-to-last possession.
Barnes led the Wildcats in scoring and rebounding with 17 and 11 respectively.  Huerta had 13 points, Walsh had 11, and Derrick Chaney added 10.
The Wildcats travel to play UW-Fond du Lac on Friday night and then return home to West Bend on Monday, Dec. 4 to take on UW-Sheboygan.