UW-WC edges UW-Marathon County by 4 point in a difficult victory on the road | By Stephen Murphy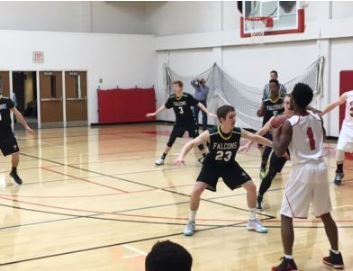 Jan. 1, 2018 – Washington Co., WI – The University of Wisconsin – Washington County men's basketball team traveled to Wausau on Saturday and returned to West Bend with a hard fought 92-88 victory over the UW-Marathon County.
The game against the Huskies was a rematch of the two teams that played each other in the state semi-finals last season (also a 4-point win for Washington).
In the opener last season though Marathon defeated UW-WC 81-72 in Wausau.  It has been a long time since Washington defeated Marathon in the regular season (nobody affiliated with the team could remember when it last happened).
Both teams had five players score in double figures and the Wildcats shot 52% from the field while out-rebounding the Huskies 46-31.  The Huskies shot 45% from the floor and 82% from the line on 18-22.  Limiting the consistently hot shooting Huskies free throw attempts was one of the primary pieces of the game plan for the Wildcats.
For the Wildcats, Ahmad Pender, Jr. scored 21 and had 7 rebounds.  AJ Barnes, Jr. scored 19 and added 9 rebounds.  J Broxton Thomas scored 14, while Koy Walsh posted a double-double with 12 points and 10 rebounds.  Adrian Huerta hit for 10 points including 4 clutch free throws in the final minute of the game.
The Wildcats are 10-1, 8-0 in conference and lead the Eastern Division.  The Huskies are in 2nd place in the Western Division.  UW-Rock County is undefeated and in first place in the Western Division.
UW-Rock County will visit West Bend on Wednesday, Jan. 10 in a battle of first-place teams.
Before then though, UW-Washington County has a home game Wednesday, Jan. 3 against UW-Richland Center, and a road game January 6 at UW-Barron County.