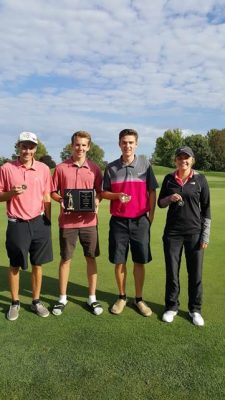 Sept. 30, 2017 – Washington Co., WI – The UW-WC Wildcat Golf Team finished the Golf Invite season at a perfect 5 for 5, by taking first place in the  UW-Fond du Lac Invite at Rolling Meadows Golf Course.
Wildcat players owned the podium with a 1 – 2 – 3 finish.
Kevin Albrecht led all golfers with a 73, Sam Krause's 79 was 2nd  and Nikki Differt's 81 was 3rd.  Ryan Rausch's top 10 sealed the victory for the "Cats."
 "It was a windy day, I wasn't expecting the team to post their lowest score of the season. I'm really proud of the players," coach John Minz said.
The Wildcats look to remain undefeated when they wrap up the season with the Wisconsin Collegiate Conference State Tournament held at Mascoutin Country Club, Oct. 1 and 2.