Jan. 17, 2018 – Washington Co., WI – The UW-Washington County men's basketball team returned to action Wednesday night posting an 87-63 victory over visiting UW-Baraboo.
The 12-1 Wildcats jumped out to a commanding 54-28 lead at halftime after a fast start by sharpshooter J Braxton Thomas who connected on three consecutive 3 pointers to open the game, then was fouled trying for four in a row, but connected on all 3 free throws for the Wildcats first 12 points as the home team took an early lead.  Thomas finished the game with 22.
After missing the entire first semester with a broken hand, Trenton Walstra lit it up for 17 points including 5 of 7 from behind the arc, plus the Fearless Hoosier's hustling defense added a game high six steals for the Wildcats.
AJ Barnes, Jr. scored 13 and hauled in 9 rebounds.  Koy Walsh led the rebounding with a dozen boards.  Derrick Chaney shot 67 percent and scored 10 while dishing out a team leading 5 assists.  Adrian Huerta added 9 points to the Wildcats attack.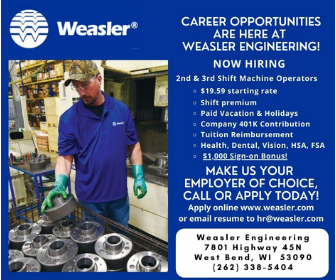 Scrappy Slinger grad, Mitchell Behm made 2 more free throws and continued his 100 percent shooting from the line for the season, knock on wood.  Tariq Frett hit 3 of 6 shots, and had three alert steals.  Ross Riegleman played very intelligent basketball as per usual, and Sam Krause also added quality minutes to the Wildcats victory.
Next up for the team is a home game, Wednesday, Jan. 24 as UW-Manitowoc travels to West Bend.  In their first meeting, the Wildcats edged the Blue Devils by 6 points.