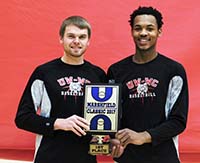 March 13, 2017 – West Bend, WI -The Eastern Division defeated the Western Division 105-97 in the Wisconsin Collegiate Conference Men's Basketball All-Star game Sunday at UW-Manitowoc.
UW-Washington County's Evan Rathke displayed two amazing dunks while leading the Eastern Division in scoring with 19 points to go along with tremendous defense as he was named MVP.
Also representing the Wildcats on the victorious Eastern Division team, Dre Johnson scored 12 with 7 rebounds and Shawn Fischer scored 10 with 4 rebounds and 2 assists.
In the Women's all-star game, the Red team outscored the Blue team 78-40.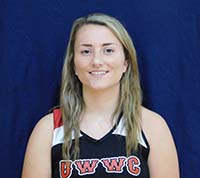 Megan Breuer of UW-Washington County had a sensational game for the Red team as she registered a game high in both rebounds and steals with 9 and 5 respectively.
Breuer also scored 8 points while dishing out 4 assists.