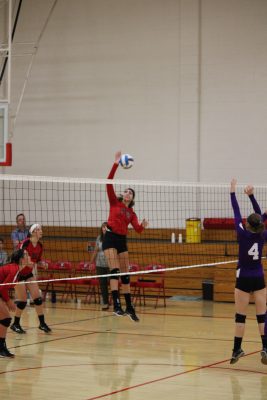 Oct. 12, 2017 – Washington Co., WI – The UW-Washington County Lady Wildcats won its WCC Eastern Division conference match against UW-Waukesha 25 – 17, 25-14, 25-16.
The win guarantees UW-WC a share of the Eastern Divisional Title along with UW-Fond du Lac and UW-Marinette.
"The team played intense and were focus during the entire match," said coach Deb Butschlick.  "We knew the team needed to play their game with concentration and passion."
Meghan MacFarlane led the team with 15 kills out of 29 attempts, 28 digs and 6 blocks
Courtney Peters had 14 kills out of 23 attempts, 17 digs
Kayla Schommer had 41 assists for kills, 2 ace serves and 2 blocks
Catherine Tucker led the team with 33 digs and 4 ace serves
The Lady Wildcats are 5 – 1 in the WCC Eastern Division and 10 – 2 overall.
UW-WC's last match of the season is Wednesday, Oct. 18 at 6 p.m. at UW-Sheboygan.