UWM at Washington Co. at home tonight, Nov. 19, vs. UW-Sheboygan | By Jacob Schmick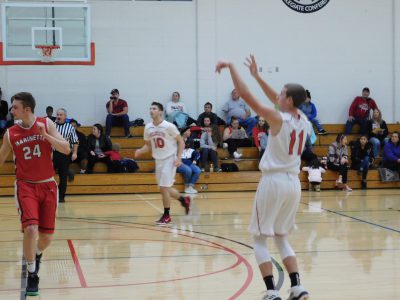 Nov. 19, 2018 – Washington Co., WI – The UWM at Washington County Wildcats suffered a tough loss Saturday, Nov. 17 against UW-Marinette.
The Buccaneers jumped out to a 11-4 lead early in the game.
UWWC battled throughout the half, but went into the locker room trailing 39-27. The Wildcats struggled offensively with 20 first half turnovers and shot 36% from the field. The Buccaneers shot 46% from the field and 46% from three.
UWWC came out with more energy in the second half and quickly used a 7-0 run ton start the half. After a quick timeout, the Buccaneers responded with a run of their own, and they seized control for the rest of the game.
The Wildcats fought hard, but could not overcome the deficit.
A 35-25 second half advantage pushed UW-Marinette to a final score of 74-52.
David Britton lead the Wildcats with 24 points, 11 rebounds and 2 steals.
Miles Perkins added another double-double with 11 points and 13 rebounds, and Ross Riegleman added another 10 rebounds.
UWWC plays next on Monday, Nov. 19 at home against UW-Sheboygan.