February 24, 2020 – Washington Co., WI – UWM at Washington County has wrapped up its season and put a bow on the era of basketball and competitive sports at UWWC.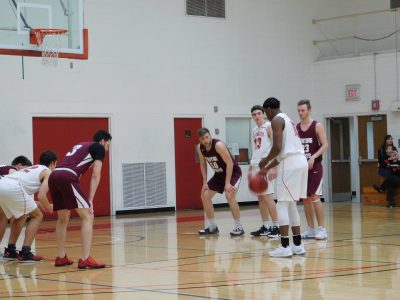 On Wednesday, February 12, UWM at Washington County ventured to UWGB at Marinette in snowy conditions for a play-off match up.
Despite being without its leading scorer, the Wildcats were determined to fight through and play their best game all year.
Both teams started slow on the offensive end.  Seven minutes into the half, the Buccaneers held a 12-5 advantage. However, like they did all year, the Wildcats used a quick 9-2 burst to tie the game at 14.
Seth Perez lead the quick charge by facilitating and assisting on back to back three's. Matt Geldnich and Vinny Skowera knocked down the a pair of three-point shots.
The Wildcats struggled to find consistent offense the rest of the half and trailed UWGB at Marinette 39-21 at halftime.
As the second half got underway UWM at Washington County wanted to show they still had some fight left in them.
Zach Smith knocked down two quick three's to cut the Buccaneers lead to 12. Tate Stoeckmann started to establish himself on the offensive glass, and Seth Perez contributed with two shots from behind the arc.
The Wildcats found themselves under a double-digit deficit.  Brendan Serrano started to find his groove on the offensive end as he went to his patented floater.  However, the lack of offensive firepower overcame the Wildcats, and UWGB at Marinette pulled away the last 10 minutes of the game.
The Buccaneers claimed the victory 80-45 and advanced to the second round.
Seth Perez lead the Wildcats in scoring with 15 points. Zach Smith contributed with another 10 points.
Our basketball family wants to extend our sincerest gratitude to everyone involved with our season. From our amazing athletic director Debbie Butschlick to our supportive parents and fans, our success traveled far beyond our coaches and players.
We want to say thank you to George Hayes, our WCC commissioner, all of our conference opponents and their great coaches and players, Judy Steffes for promoting our program through the WashingtonCountyInsider.com, and Travis Wilson for his work covering our conference.