UWM at Washington County grad rises high in world of ballooning | By Sue Bausch
March 28, 2019 – Washington Co., WI – From the moment I saw balloons, I was hooked on the sport," says Debbra Spaeth, an alumna of UW-Milwaukee at Washington County and UWM. That hook resulted in a lifetime of ballooning adventures, friends and awards from around the world, and a 2018 induction into the U.S. Ballooning Hall of Fame.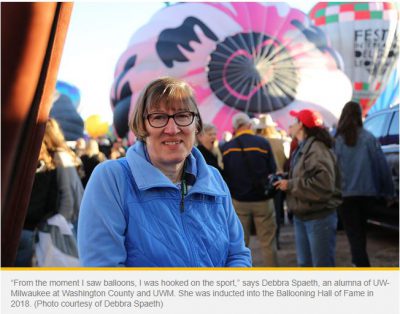 The wide scope of her involvement began as a crew member for other pilots. "The serenity and beauty of a balloon flight" is what drew her into the sport. Before long, she began taking pilot lessons. As a commercial-rated hot air balloon pilot, she flew at events in the United States and later in England, France, Belgium and Japan.
As she was learning to fly balloons, a balloon competition was being planned in her flying area in West Bend. Her strong organizational skills and attention to detail were a perfect match for this event as well as many more to follow over the next 30 years. "A passion for the technical aspects of organizing an event, formulating competitive flights and all the related details" kept her involved for the next 30 years, organizing competitions from Wisconsin Dells to Japan, Spaeth said.
She wrote the book
In addition to piloting and organizing competitions, she literally wrote the book on observing and officiating. Spaeth is author of the 1978 BFA Observer Handbook and co-author of the Gas Balloon Observer Handbook for the 1990 World Gas Balloon Championship.
Despite her sometimes very hectic schedule….
Click HERE to read the rest of the story about Debbra Spaeth and her ballooning career.
The story by Sue Bausch was originally published in UWM Report.