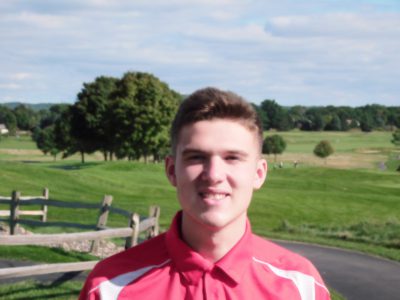 Sept. 11, 2018 – Washington Co., WI – The University of Wisconsin Milwaukee at Washington County captured the UWM at Washington County Golf Invite on Monday on its home course.
The Wildcats were led by returning medalist Kevin Albrecht with an 18-hole score of 78.
Ashton Elmendorf from UW Green Bay – Sheboygan was second with an 81 and Erik Hanschke of UWM at Washington County was third with a score of 82.
The Wildcats finished with a team score of 337 followed by Sheboygan at 380.
The next match for the Wildcats in on Monday, Sept. 17 at the Bull in Sheboygan.
The team consists of 10 players with two returning from last year, Albrecht, and Ryan Rausch.  Round out the team is Brad Halverson, Erik Hanschke, Connor Tanel, Mitchell Mallouk, Logan Naumann, Josh Bohn, Jacob Eichline, and Seth Ullsperger.
Photo of Kevin Albrecht