VIDEO | A peek inside the ongoing restoration of the Historic West Bend Theatre
December 20, 2019 – West Bend, WI – There's a hum of activity inside the historic West Bend Theatre, 215 N. Main Street, as a full, interior restoration is underway. Charles Dwyer is with Conrad Schmitt Studios. Click the video below as he leads a tour atop three-stories of scaffolding as we walk atop planks within inches of the ceiling of the theatre.
Dwyer was born in West Bend but his art has taken him around the world. His biography said he "graduated 
Valedictorian from the Milwaukee School of Art and Design in 1984.
 He enjoyed early recognition when the West Bend Art Museum
 exhibited his work in 1985."
On a cold December afternoon Dwyer was working on restoring the art in the landmark theatre in downtown West Bend.
"Right now we're about as high up in the theatre as you can get; the ceiling is just inches from my head," said Dwyer.
Dressed in a blue-grey knit hat and tortoise shell glasses, Dwyer provided insight as we explored the edges of theatre walking along makeshift particle-board flooring to get an up-close look at the stenciled art that covers the pilasters; spaces below eight well-preserved urns, beams and ceiling.
Theatre memory by Carol A. Feypel – West Bend Theater lights. One of my favorite entertainment locations. Started going summer before 1st grade; 10 cents in 1938. My Sunday afternoon entertainment. Earned the money dusting Mrs. Collins furniture. Mr. Collins was President of First National Bank. Their house side yard met with our back yard on Poplar and then on 9th.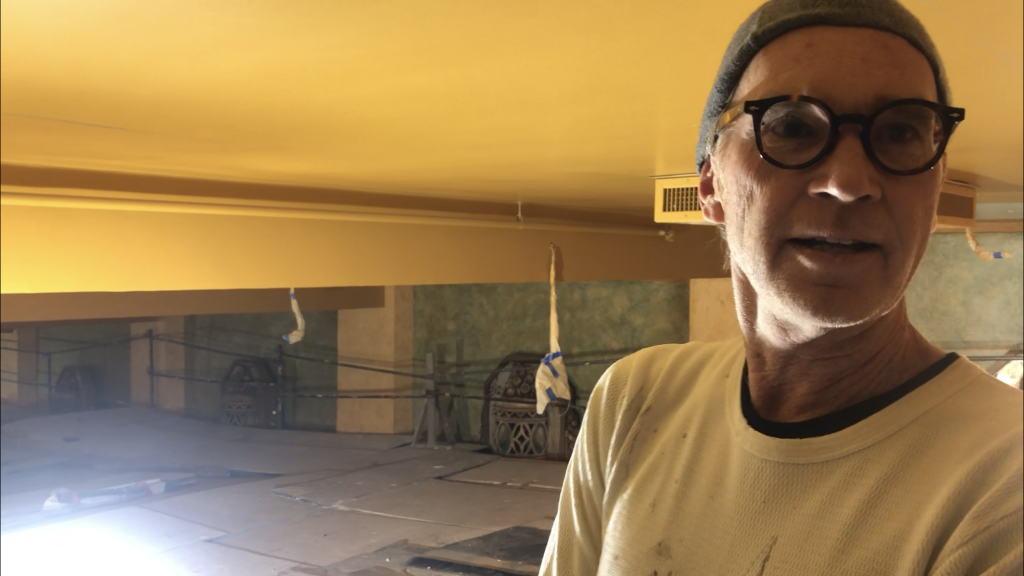 "There will be decorative work on the ceiling, the walls, the proscenium arch. Although it is mainly a conservation project, so we're saving as much of the decorative finishes as possible there's been a historic documentation of the paint finishes and we're following that guide and putting it back to what it was in the 1920s," he said.
With three long strides Dwyer walks toward the narrow wooden plank that leads up to the temporary floor. He grabs a pair of drawings that resemble what the theatre is designed to look like. Brushing off the plaster dust Dwyer points out the color and vision for the decorative painters.
"We'll put stenciled aluminum leaf on the ceiling; it will have a stained-glass effect," he said. "That was original to the decorative scheme. All the urns will stay. We will leave the original paint finishes and applying new paint finishes."
Theatre memory by Andrea Olsen – I can still remember the smell of their bathrooms, same as Artistic Roller Rink, that cherry air freshener.
"Because we're conserving and saving the old as much as we can, when we do put new paint finishes on it's important to think that we don't want that to look too new so our job is to knock that back a little bit so we have a historic finish," said Dwyer.
The face above the stage will get glazed and the columns at the sides of the stage will also receive a gold finish.
The urns were recently removed so an electrician could put dimmable light behind them. "There was soft, dim lights behind the urns before," said Dwyer. "The old, cloth-wire lights were removed and then rewired in the back."
"The original colors were very bright," he said. "As a kid we remember a lot of maroon. The proscenium arch is a lot of Art Deco with combinations of aluminum leaf and gold and kind of bright colors."
The project has been documented at ever step, including the color pallet. "Everything is to the report that was done for historic purposes," said Dwyer.
The artwork was painted over sometime during its 90-year history with maroon paint.
Tracings and digital photos of the stencil patterns will guide Dwyer in replicating the bright and colorful artwork throughout the historic building.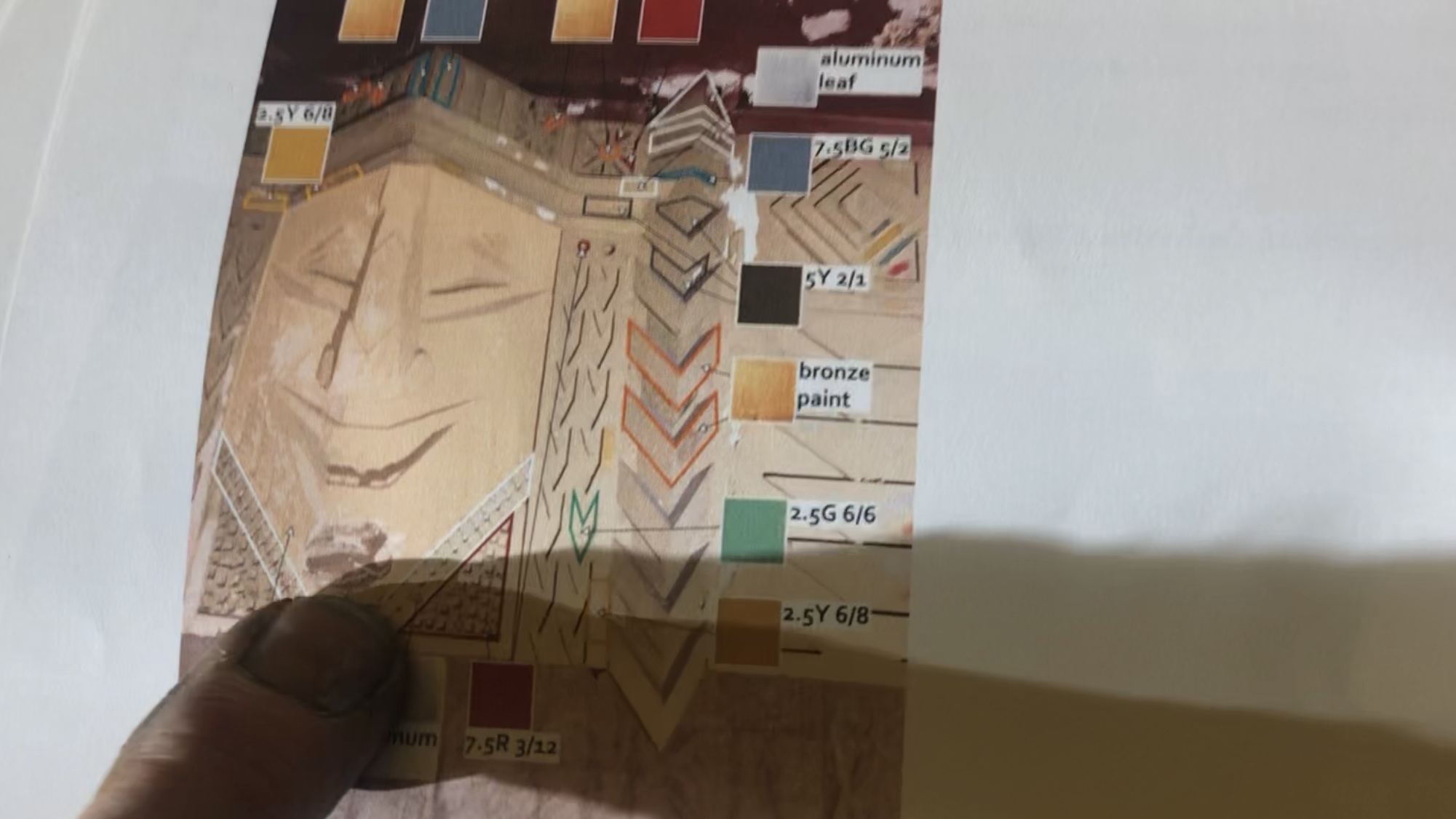 Theatre memory Rick Riehl, October 11, 2014 – Rick Riehl of West Bend was among those gingerly stepping through the rubble, talking about the days when the theater featured vaudeville acts. Riehl said the sculptured face above the main stage traced to ancient Greek when 'masks,' made from clay or wood, served as a universal symbol for drama. "The sculptures had huge wide open mouths and I thought there were three satyr, comedy, and tragedy, in the main theatre," Riehl said. "I also recall they found gargoyles around the sides above the suspended ceiling when they put in a second level of theatre. Somebody took those; very sad."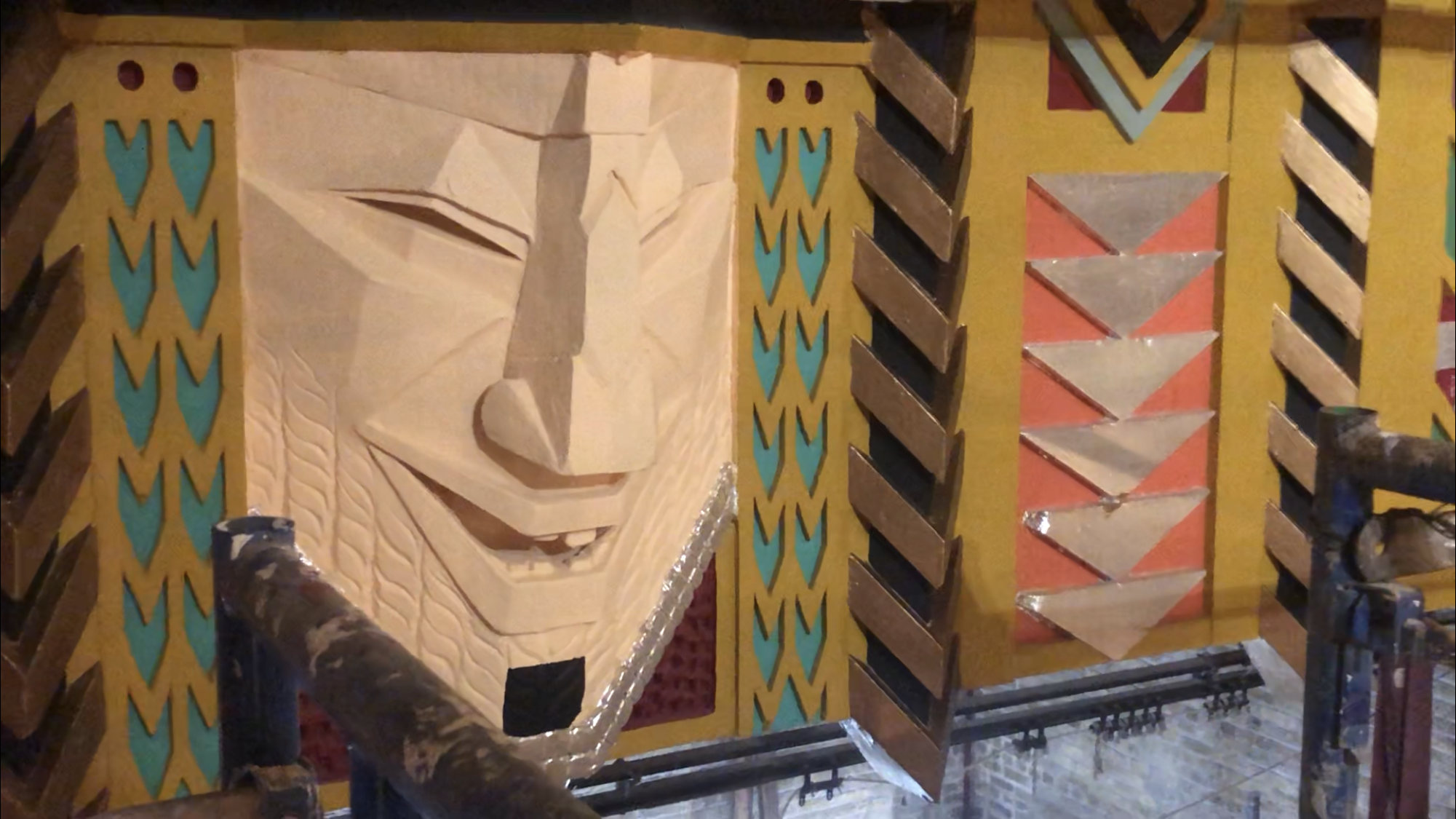 "This theatre was built under one direction, however it changed over the years until it was painted maroon but now we're starting to bring it back to what it was," said Dwyer. "I just can't wait to see it when it's lit and there's a performance. I think people will be shocked this exists in West Bend and I give them credit for even attempting to go ahead with it. It takes courage."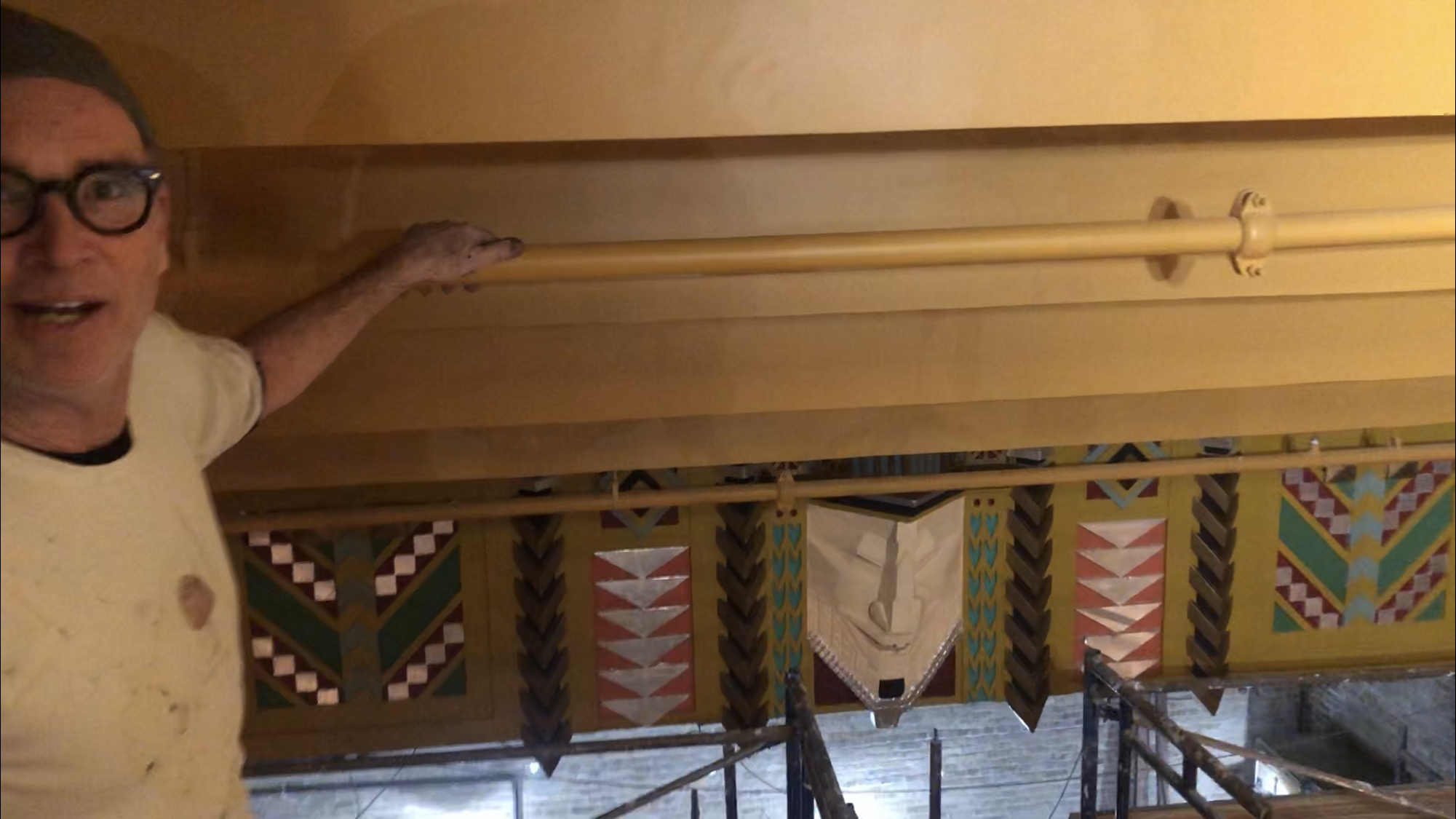 Theatre history : West Bend Theatre was built in 1927; it opened in 1929 as a single-screen theater. Twinned in the 1970s and later triplexed around 1992 the theatre is currently made up of two narrow theatres on the main floor. The balcony serves as the third auditorium and sports a 35-footwide screen. The property has been through six previous sales starting in July 1985 when Albert and Nick Frank sold to Robert and John Johnson for $300,000. In July 2004 the Johnsons sold to Family Cinema LLC for $550,000. A quick three months later the business was sold to West Bend Cinema LLC for $340,000. In Nov. 2006, Buddies Two, LLC bought the theatre for $475,000 and in mid-2007 turned it over to Michael Reineck/Albert Kolkmeyer on a quit-claim deed.
Theatre memory by Sherry Abbott – I fell on that darn step going into the ladies room and broke my arm.