Video: Back to the Past with Doug Ziegler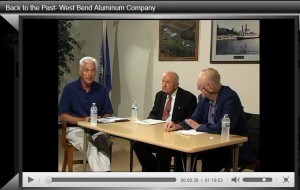 In light of the death of Doug Ziegler we take a look at some of the videos from his past.
In October 2014 Diane DuKatz produced a series for West Bend Community Television called, "Back to the Past."
The show was hosted by Rocky Dedrick and in this segment Doug Ziegler and Allan Kieckhafer talk about the history of the West Bend Aluminum Company.
Doug Ziegler died this morning at the age of 89.
To see the video click here