VIDEO | Divine Grace on CBS 58
Jan. 13, 2019 – Sheboygan Co., WI – A familiar name for neighbors in West Bend and Washington County as CBS 58 airs a story about a family from the Sheboygan County area that had a dramatic final moment together.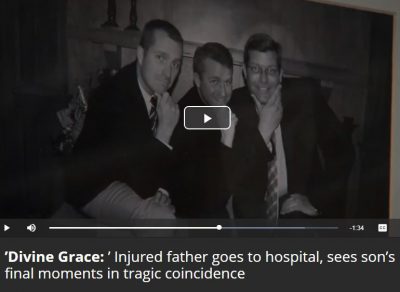 Ted Neitzke IV was the superintendent in the West Bend School District from 2011 – 2016.
Neitzke's brother Jon died in August 2018.
Below is a portion of the story aired over the weekend on CBS 58.
The patient with chest pain was Jon Neitzke in room 10 and in room 11 was his father, Ted. 

"Jon didn't mention that his father was here or anything and his father didn't mention anything," Nurse Strong said. 

Because neither had mentioned their family member was in the hospital, the nurses decided not to say anything, until minutes later when things took a turn for the worse. Julie and Ted could hear there was something wrong happening in the next room. 

"I heard all the bells and whistles go off," Julie said. 

That's the moment when Nurse Strong decided to go into Ted and Julie's room. 

"Do you have a son named Jon," Nurse Strong said. 

"I said, 'Oh yeah! Did you go to school with him?'" Julie Neitzke responded. "And she said 'what's his birth date?' And, I stood up. And, I was like oh you don't ask that something's going on." 
Click HERE to read the rest of the story by reporter Stephanie Buffamonte.