November 14, 2022 – Kewaskum, WI – Jordan Stolz from the Town of Kewaskum, WI is picking up where he left off in the speed skating arena. Stolz, who competed in the Beijing Olympics gained all-star status across Washington County, WI. Now… the 18-year-old is being recognized around the world as the fastest man on ice.
On November 11, 2022 during the World Cup speed skating race in Stavanger, Norway, Stolz became the youngest skater to record a time of 1:44:891 in the 1,500-meter race.
Click HERE to SUBSCRIBE to FREE local news at
It was a new track record. The previous record of a young man winning an individual World Cup race, dated to 1986, and was held by Peter Adeberg of Germany.
Stolz's coach Bob Corby said it was an amazing performance
Corby has been coaching Stolz for four years. Previously he coached the US speed skating team from 1980 through 1984, honing the skills of familiar athletes including Dan Jansen and Bonnie Blair.
Click HERE for an article about Jordan Stolz's performance at the World Cup by the International Skating Union
"Jordan just amazes people all the time," said Corby. "I was really thinking he would get somewhere this weekend especially in the 1500 meters, which is not a race he has traditionally done extremely well."
Corby expected Stolz would finish somewhere between second and fifth place and that would be an extremely good standing.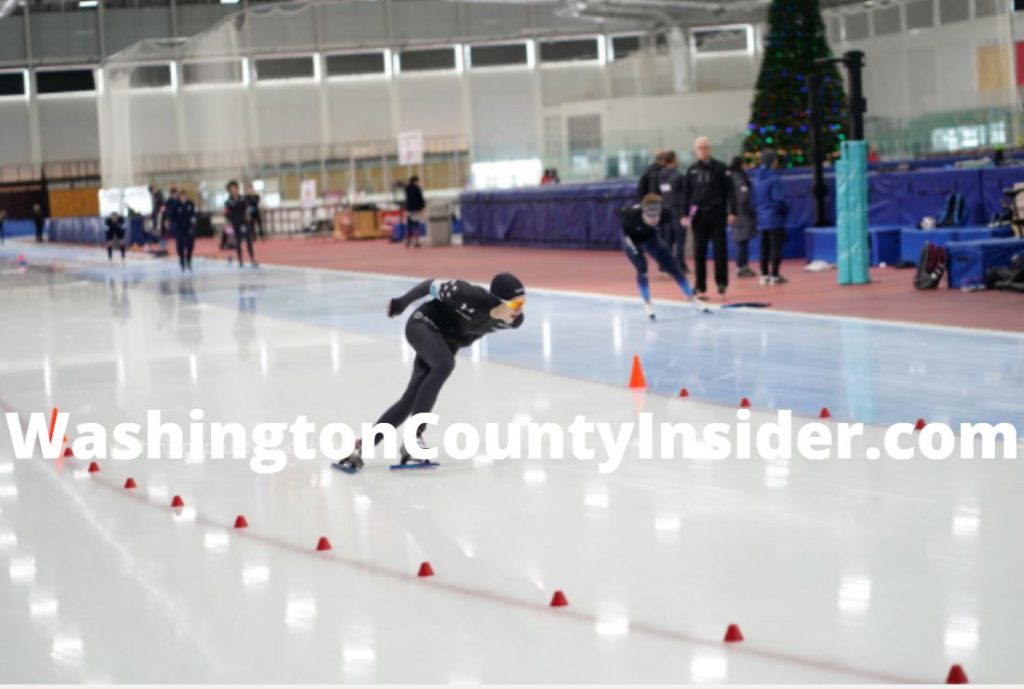 "Then when he just went out there and beat the world's best skaters by 1.7 seconds. I mean, it's hard not to be completely shocked, because people just don't do that," said Corby.
Not only did Stolz win on Friday, but he also secured a gold medal on Sunday in the 1000-meter race finishing in a time of 1 minute, 8.72 seconds.
Corby said, it was hard for many in the stands to take their eye off the teenage superstar. "People from all over the world, like Norwegian coaches and Polish coaches and people say they never miss his race. He's so exciting to watch."
The key to Stolz's success, according to Corby, is his strength combined with a phenomenal technique.
"I have told people before, he's a Porsche," said Corby.  "He is so strong, but he's not very heavy and he has tremendous strength-to-bodyweight ratio."
Since the 2022 Winter Olympics, Stolz has grown into more of a "man body" according to his dad Dirk Stolz.
His strength has noticeably improved from a 300-pound squat to 375 pounds.
"We're not sure where his technique comes from; he always was a really good short track skater, but he just is naturally a really, really good skater and he's so easy to coach," said Corby.
"I'll just say, two or three things and he comes around the next lap, and he's corrected everything."
Corby gives the example of pushing angles.
"That's really, really important. You want to push perpendicular to the direction you're going so your foot stays with you, and you can still generate power into the ice as that happens. That is very difficult and sometimes people take years to perfect that and Jordan does it really well anyway.
"I say okay, so that right foot on the corner, it's dropping back a little bit. So, push a little bit more out to the side and then he does it on the very next corner. So, he's a joy to coach."
Stolz left Norway over the weekend and is now in Herenveen, Holland for another big race Friday, November 18. That event will be followed by two more World cups in Calgary, Canada.
Stolz will return to the Pettit Center in January 2023 and then head back to Europe for the Junior World Championships in February.
Corby said, Stolz's mantra is "F-A-S-T.  That's what he wants to do all the time."