November 18, 2022 – Heerenveen, Netherlands – A tough day on the ice for speed skater Jordan Stolz of the Town of Kewaskum. After setting a new world record last week in Stavanger, Norway, Stolz is now racing the ISU World Cup at Thialf ice arena in Heerenveen in the Netherlands.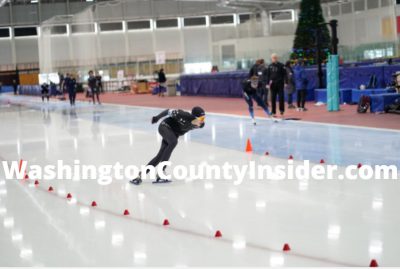 During Friday's 1,000 meter race, Stolz competed 9th against Laurent Dubreuil of Canada. With one lap completed Stolz skate slipped in the turn and at the :25 second mark he slid across in front of Dubreuil and was into the wall.  Stolz was not injured.
Click HERE to SUBSCRIBE to FREE local news at
Click HERE to watch the race. Stolz toes the start line at 2:37:28.
For analysis on what happened click HERE to listen to Speedskating Deconstructed! Analyst Jeff Klaiber said it appears the "ice breaks" under the pressure of Stolz's skate.
Stolz still has races on tap this weekend with a 5000 meter on Saturday, November 19 and a mens 1500 meter on Sunday afternoon.  Click HERE for details.
Coach Bob Corby said Stolz is ok. "He says he is fine, no soreness at all. He said when he set his left foot down the ice broke away. That corner- 2nd corner of 1000 is the fastest you will ever go- about 45 mph-so no room for any error at all. Hopefully he bounces back today and tomorrow. I think he would have won the race by 1/2 second."