VIDEO |First graders from Holy Angels bond with seniors during SPARK! at MOWA
May 1, 2019 – West Bend, WI –  The last Tuesday of the month is SPARK! at the Museum of Wisconsin Art. It's a chance for people with memory loss and their caregivers to take part in activities.
This week the first graders from Holy Angels School joined senior citizens in an intergenerational learning session. First grader Jackson Becker teamed up with his new friend Susie to work on an art project drawing shapes with marker on a cloth.
Jackson was drawing a sun and they were just about to draw a boy and girl looking up at the sun. "This helps us interact with old people," he said. "So we learn about the past and spark their memories."
The next session of SPARK! is Tuesday, May 28: Treasures from the Collection 
Get a rare glimpse at artwork from the collection that is currently off the gallery walls. Take part in an engaging conversation about its content and through a facilitated discussion, interpret the meaning of the work and relate it to your own life. 
This is a free program for participants with memory loss and their caregivers. 
Registration is requested one week in advance. Click HERE to register.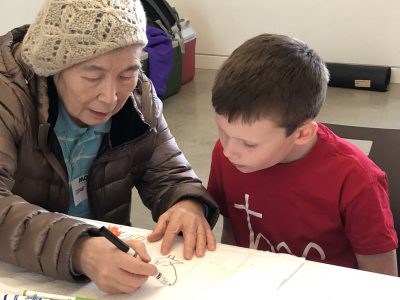 Coming up at MOWA: Among the Wonders of the Dells: Photography, Place, Tourism June 1–September 8, 2019, Click HERE for details.