18 Washington County veterans on May 11 Stars & Stripes Honor Flight
May 1, 2019 – Washington Co., WI –  There are 18 veterans from Washington County set to take part in the 51st "mission" on Saturday, May 11 when the "We Energies Stars and Stripes Honor Flight" departs for the nation's capital.
Two Allegiant Airlines A320 aircraft will leave Milwaukee's Mitchell Airport at approximately 7 a.m. on flight day, bound for Baltimore/Washington Thurgood Marshall International Airport (BWI) with 174 local veterans (and their guardians) on board.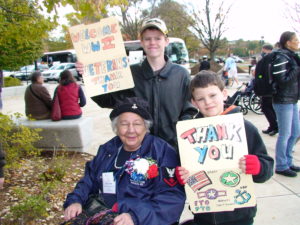 On that day, Stars and Stripes Honor Flight will welcome four WWII veterans, 16 Korean War veterans, and 154 veterans of the Vietnam War.
There are six veterans from West Bend on the next Honor Flight including Korean Army vet Roger VanRyzin, and Vietnam vets Norman Krueger, Gerhart Peters, Joel Hausmann, Thomas Koelbl and James Merkowitz.
Vietnam veterans from Germantown include Lawrence Ruddat, Larry Thompson, John Schaetzel.
Vietnam veterans from Hartford include Judith Thorbahn Pierce, Dale Mueller, Kenneth Werner, and John Oberg. Also Korean Army veteran Delbert Clay.
Three Vietnam vets from Jackson include George Mueller, John Hillouse, Elmer Wetzel and Vietnam veteran Harry Ibis from Colgate.
Veterans who will be taking their Honor Flight on May 11 include a veteran who served 36 years in multiple branches (Navy, Navy Reserve, Coast Guard reserve and Army reserve), a 93-year-old WWII Army infantry soldier who served in the Philippines, and a Vietnam War Army veteran who was an on-air personality for Armed Forces Radio in the combat theater.
The flight is sponsored by We Energies, a longtime supporter of Stars and Stripes Honor Flight. "We are so grateful for the continued support of We Energies," said Paula Nelson, president of Stars and Stripes Honor Flight. "In addition to the financial support that makes this flight possible, their employees are writing letters of thanks for our veterans, they volunteer to escort veterans on the flight, and they assist at the airport on flight day. Their willingness as an organization to support our veterans in a myriad of ways has been inspirational to us."
After the planes land in Baltimore on flight day, the veterans will board coach buses to tour Washington DC's WWII Memorial, the Korean War Memorial, the Air Force Memorial, the Vietnam Veterans' Memorial Wall, and more. The day will also include viewing the Changing of the Guard at the Tomb of the Unknown Soldier at Arlington National Cemetery. A DC Park Police escort will ensure that the veterans do not spend time stuck in traffic.
"So many of our oldest veterans have never been thanked for their service. It is such a privilege to watch them reflect on their service and receive their community's thanks and gratitude on their Honor Flight day," Nelson said.
Prior to the May 11 flight, Stars and Stripes Honor Flight has flown 6,514 local veterans on these trips to Washington DC since 2008, and has honored more than 50 veterans locally who were not able to fly. As an all-volunteer organization with no paid staff and no offices, the organization is proud to share that $.96 of every donated dollar goes directly to flying and honoring veterans.
Honor Flight is a national program with more than 130 hubs from coast to coast. The WWII Memorial did not open until 2004 and many veterans are unable to visit Washington DC without assistance. Nationally, hubs in the Honor Flight network have taken well over 221,000 veterans to see their memorials.
Timeline of activities for the Saturday, May 11 Stars and Stripes Honor Flight:
4:30 am –Veterans and their guardians begin check in at Mitchell Airport's main concourse
5:45 am – National Anthem and boarding entertainment by teen acapella group "Vintage Mix"
6:30 am – Flights depart for BWI Marshall Airport, water cannon salute on runway
9:30 am (ET) – Flights arrive at BWI Marshall Airport, load buses for DC tour
6:30 pm (ET) -Return to BWI Marshall Airport, load plane for departure back to MKE
8:30 pm (CT, approximate) Return flights land at Mitchell Airport, veterans deplane for parade through the airport's main concourse. The UW Alumni Band will provide spirit for the Homecoming parade.