VIDEO | First responders in West Bend put at risk by distracted driver
Feb. 14, 2018 – West Bend, WI – A video from the State Patrol is making the rounds because it shows a near-miss accident where a first responder almost got hit at an accident scene.
Battalion Chief John Spartz said he was responding to an accident on southbound Highway 45 just south of WIS 33 near Chestnut Street on Monday, Feb. 12 at approximately 8 a.m.  "This started as a rollover accident," said Spartz.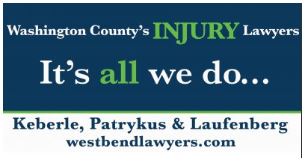 Wisconsin State Patrol officers along with officers from the Washington County Sherriff's Office and rescue crews from the West Bend Fire Department responded.
"As our med unit arrived on scene the video shows the witness car pull forward," Spartz said.
First responders get out of the vehicle and Spartz comes into view on the left side of the video and then a car, traveling about 50 miles an hour, passes by and almost strikes Spartz.
Spartz said he was on the inside of the lane and the vehicle was "close enough to get my attention."
"The message with this is attentive driving and people have to watch at all times," he said.  "When you see emergency vehicles please slow down.
Below is the release from the Wisconsin State Patrol.
While responding to this initial single vehicle incident, a secondary crash occurred when a driver failed to slow approaching the emergency vehicles, rear ended another vehicle sending that vehicle into the ditch.
The vehicle that failed to slow then slid towards the first responders who were in the process of gathering gear to address the initial incident.
After just missing a rescue worker, the vehicle struck a vehicle that had pulled over and was a witness to the initial incident.
The driver of the vehicle that caused the secondary crash admitted to officers eating breakfast food while driving and traveling at 50 mph into the area occupied by the first responders.
This incident highlights the need for drivers to slow down and move over when approaching emergency vehicles with lights turned on. While no officers or other first responders were injured during this event, it highlights the dangers of distracted driving.
The video shows the West Bend Rescue worker being missed by approximately one foot and a partial view of the impact with the vehicle causing the secondary crash and the vehicle that had pulled over after witnessing the first incident.