Hartford, Wi – During the 1930s and 1940s, 35 murals were commissioned for post offices around Wisconsin, some of which are no longer available for public viewing.
Locally, an interesting piece of Depression-era history that was previously in the Hartford, WI U.S. Post Office now hangs in the Schauer Arts Center in Hartford, WI.
There's quite a dramatic backstory to this piece by Ethel Spears. The oil on canvas painting "Autumn Wisconsin Landscape" dates to 1940.
It was 2001 and the West Bend Art Museum and US Postal Service hired Anton Rajer to review the murals at the post office and the one in Hartford was in a "rather awkward and difficult situation."
Rajer was a fine arts conservationist and he had been corresponding with Kevin Kleinert with the US Postal Service. A copy of a report about the painting indicates the "mural was removed by an inexperienced individual which resulted in a high percentage of loss of the original painting.
"The top edge was almost completely gone. There were a lot of pinhole losses noted throughout the piece."
The writeup about the removal of the painting from the wall at the US Post Office in Hartford referred to it as "brutal" and the loss was deemed "abnormally high."
It was predicted to take more than a year and nearly $11,000 to fix. Rajer wrote, "I'm saddened by the condition of the mural, and fully realize its historic, artistic, cultural and economic value."
What follows is a gritty play-by-play on how the painting was removed from the wall at the old Hartford Post office on Sumner Street.
Click HERE to SUBSCRIBE to FREE local news at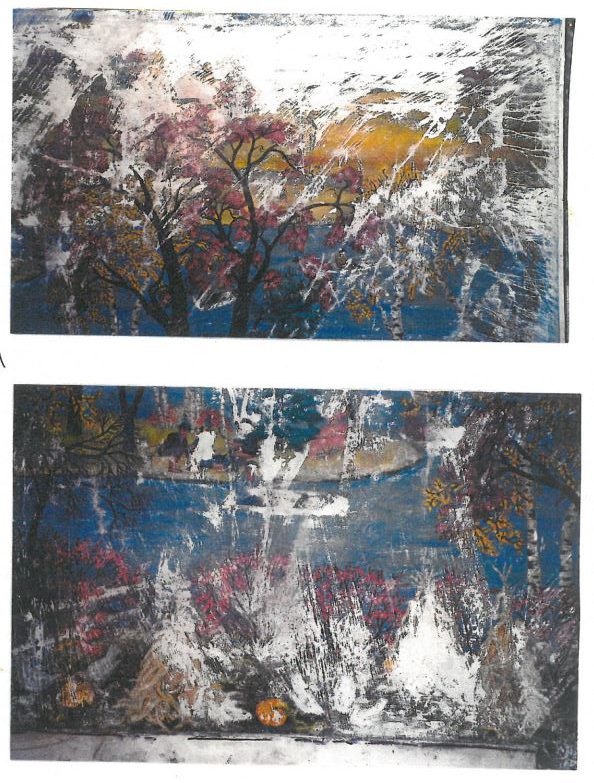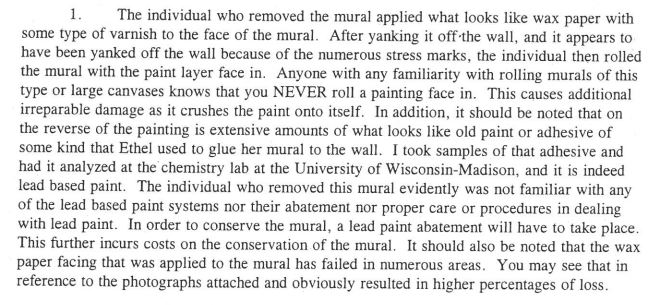 Scroll through the 22-page report below.
Post Office Mural History

Click HERE to read more on the WPA and Post office art in The Smithsonian
Click HERE to read about the 1930's painting at the West Bend Post Office
Below are segments from the painting by "Autumn Wisconsin Landscape" by Ethel Spears.
Beautiful restoration of the painting below.