Sept. 17, 2017 – Hartford, WI – Nearly 100 people spent a warm September day exploring the Pleasant Hill Cemetery on Highway 60 as the Hartford Historical Society hosted a cemetery tour.
During the 3-hour event local historians dressed in period costume brought the dead back to life with stories of their careers, families and …. in some cases, local scandal.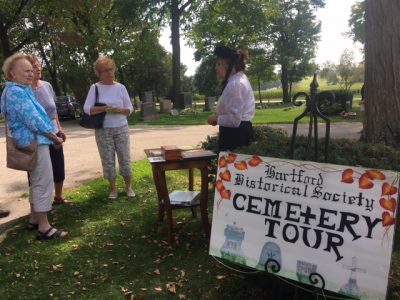 "It's an old custom where people used to come on Sunday afternoons with their picnic basket and grandma and grandpa were in the ground and the families would clean up the area and then have a picnic lunch," said historian Jean Knoll.
Aside from the history of the cemetery, the docents also provided detail on cemetery etiquette. "When you enter the cemetery from Highway 60 you'll notice the beautiful gates and what those represented is whenever you entered a cemetery you were leaving your world of the living and you were coming into the city of the dead and they wanted you to show the respect of the people buried there," Knoll said.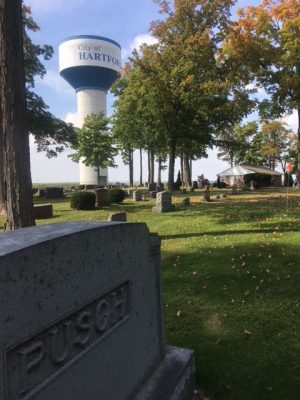 There was also an educational element on the tour about how to care for your headstone. It was presented by Rex Melius and it had an unplanned and very creepy ending.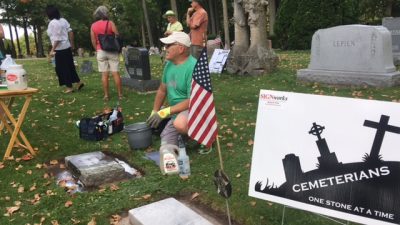 Melius has spent hours shining up headstones and grave markers. On Saturday with spray bottle and brush in hand he was cleaning the moss, dirt and debris off the stone belonging to Irma Emmer.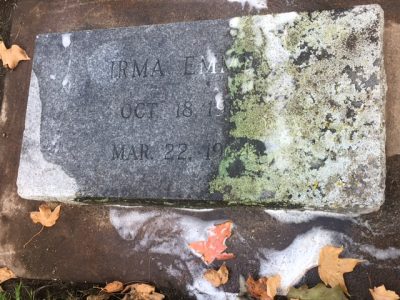 The work is tedious. Each stone takes about 30 minutes to clean. After his presentation the question was asked how he picked Irma's headstone. Was it because the name was timely in the national news. Without missing a beat Melius said he picked it because she was next to Harvey. Sure enough…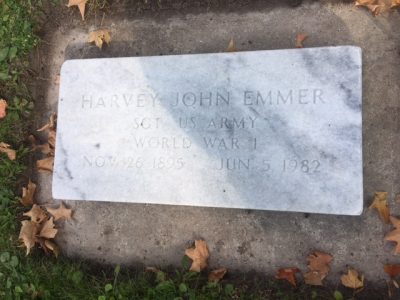 …the stone for Harvey John Emmer was right next door. Melius said, "That wasn't planned… but it sure is a little creepy."
(For those not up on current events – the two recent hurricanes to hit the south were named Harvey and Irma.)