VIDEO: Herb Tennies gives thanks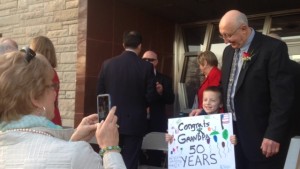 More than 150 people gathered on the front lawn of the Washington County Courthouse on Tuesday afternoon to pay tribute to County Board Chairman Herb Tennies for his 50 years in office.
Dignitaries included Gov. Scott Walker, Justice Annette Ziegler, Mayor Kraig Sadownikow and the list goes one.
Check out the video of Herb saying 'Thanks."