July 20, 2020 – Germantown, WI –  It was October 9, 2018 when ground was broken on Highway 167 in Germantown on a new 706,000-square-foot industrial distribution facility for Briggs & Stratton Corporation. The development was part of the future Gateway Corporate Park.
Today, July 20, 2020, Briggs & Stratton Corp. filed for Chapter 11 bankruptcy protection and officials in the Village of Germantown offered some insight.
Village President Dean Wolter said he had not heard the full story when we called but offered the comment below.
"I'm sorry to hear for a company that has been around as long as Briggs it has come to the point it has to file for Chapter 11. I hope it works out best for them. As far as how it impacts Germantown, currently that building is leased from Zilber Property Group so the owners of that building will remain the same. The ownership group doesn't change; it is a Briggs & Stratton facility but it is leased.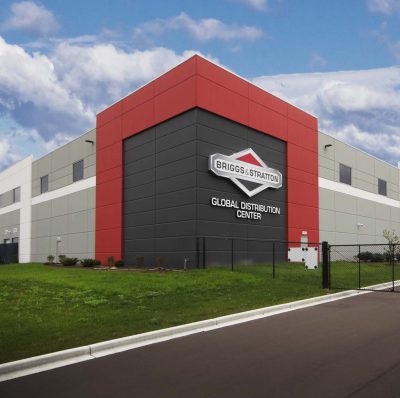 Steve Kreklow is Village Administrator in Germantown. "It's too early to tell any specific impacts at this point but the building is actually owned by Zilber Property Group and it is leased to Briggs & Stratton. It is a shipping and distribution facility that has a lot of value and regardless of the ownership structure at Briggs & Stratton I think there is a lot of value in that facility that someone will be utilizing in the near future."
Questioned whether the Chapter 11 filing made Kreklow nervous, he said he is kind of concerned about the economy in general. "When you look at individual businesses there is always ups and downs but as long as the overall economy is healthy our communities and tax bases are solid and we are able to continue to provide services. The biggest concern is where is the economy going from here and what is the recovery going to look like. We are still seeing a lot of residential construction and the housing market seems to be solid yet and I hear there is a lot of optimism on the commercial side that business owners and investors believe the economy will bounce back quickly. Time will tell."
Below is the Briggs & Stratton bankruptcy announcement courtesy Market Watch
Briggs & Stratton Corp. BGG, -5.26% said Monday it has filed for chapter 11 bankruptcy protection and reached an agreement to sell most of its assets to KPS Capital Partners. The Milwaukee-based company, which makes gasoline engines for outdoor power equipment, said it has secured debtor-in-possession financing of $677.5 million from KPS and its existing lenders to allow it to continue normal operations ahead of the closing of the deal. "Over the past several months, we have explored multiple options with our advisors to strengthen our financial position and flexibility," Chief Executive Todd Teske said in a statement. "The challenges we have faced during the COVID-19 pandemic have made reorganization the difficult but necessary and appropriate path forward to secure our business." Shares fell 27% premarket, and are down 88% in the year to date, while the S&P 500 SPX, +0.84% has fallen 0.2%.
Below is the October 2018 story about the groundbreaking for the new Briggs facility in Germantown.
Germantown, WI – Although construction is already underway on 140 acres in Germantown, a ceremonial groundbreaking was held Tuesday afternoon to acknowledge the new Briggs & Stratton facility and Germantown's future Gateway Corporate Park.
Stats on development include:
-706,000-square-foot industrial distribution facility for Briggs & Stratton Corporation.
-Gateway Corporate Park will be home to future build-to-suit projects up to 1.4 million square feet.
-To put the project into perspective, the Amazon development in Kenosha is 1 million square feet and the Germantown development is 700,000+ square feet.
-Thirty jobs will be created at the distribution facility.
Christian Tscheschlok, Executive Director of Economic Development Washington County, said the county EDWC got involved in April 2018 and made quick work of helping secure the project.
"This is exciting on so many levels because really what it's showing is the opportunity in front of us right now as it relates to some of the spillover from the Foxconn effect," said Tscheschlok.
"You're seeing the market heat up so substantially in southeast Wisconsin and some of the effect for Washington County will be to leverage the position we have to be able to tap into multiple labor sheds, available space and land that is still cost effective for development and new opportunity and a workforce that's highly skilled and you put all that together and we represent a significant place for economic development that's going to come off of some of the challenges they're already facing already in the Kenosha/Racine area."
Guest speakers included Chad Navis, Director of Industrial Investments – Zilber Property Group, Dean Wolter, Village Board President in Germantown, John Kersey, Executive Vice President with Zilber Property Group and Bill Harlow, Director of Global Distribution and Warehousing Briggs & Stratton.
Target completion date for Briggs distribution facility is April 1, 2019.
This live broadcast is brought to you by American Commercial Real Estate.