Jackson, WI – The Jackson Police Department is hosting its first National Night Out on August 6, 2019 at Hickory Lane Park from 5 p.m. – 8 p.m.
National Night Out is an annual community-building event that promotes strong police-community partnerships and safety.
We are excited to announce we have a fun-filled family night planned. A variety of emergency vehicles will be on display from Jackson PD, Washington County Sheriff's Office, Wisconsin State Patrol, and Jackson Fire Department.
Jackson Police are kicking off National Night Out with a Flight for Life helicopter landing. The helicopter will land at 5:20 p.m.  (dependent on calls for service) and stay for about an hour.
In addition to all the emergency vehicles on display, there will be other local vendors providing information on a variety of safety related topics.
There will also be a free children's raffle for a chance to win one of 20 bicycles. All the bicycles will include a helmet.
UPDATE:
Don't forget, a donation of a 25-pound bag of non-scoopable cat liter equals 1 extra raffle ticket. A donation of a 7-pouund bag of Purina brand kitten chow (has to be Purina) equals 2 extra raffle tickets. Each person can earn up to 5 extra raffle tickets. The donations will go to the Washington County Humane Society.
The weather is looking great for tomorrow and we're really excited to see all of you. We are truly humbled by the generosity of this village and the people who live, work, and play here.
We will also be giving away gun locks, fingerprint/ID kits for kids, and goodie bags containing coloring books and other items.
No need to eat dinner beforehand, Jackson Community Center will be on-hand and selling some grilled deliciousness. Plan on bringing your family to Hickory Lane Park to join us for this fun-filled night.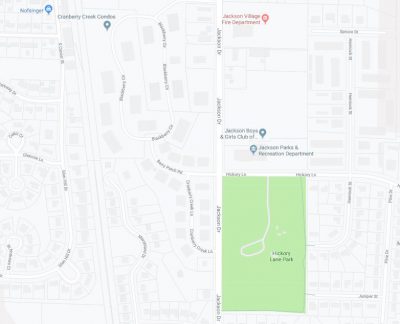 This is our first time hosting a National Night Out event and we're hoping for a great turnout from our community. We have some great prizes to give out so please join us at this family-friendly event on August 6.